Attic Spiral Staircase
Space-Saving Stairs
Paragon Stairs provides attic spiral stairs that help you access hard to reach rooms while still maximizing space in your home. Often times, an attic's full potential isn't realized because it's hard to reach and requires a unique stair solution. A spiral staircase has flexibility when it comes to access points, but provides a safer means of access than a ladder or other attic stair options. Whether you choose to finish their attic or simply use it as a storage space, you will need a safe and secure attic staircase.
Attics typically have their access points in the middle of a hallway or tucked into a corner of the house. This calls for an attic stair that's not going to take up a lot of room in your home's floor plan. Sadly, this solution often embodies as a pull down ladder, which, while tucked away, is less than ideal in terms of safety and stability. A spiral staircase to your attic is a lot safer and sturdier and will build on top of itself, keeping its footprint to a small circle. Paragon offers staircases with diameters as small as 42", a fraction of a traditional staircase's frame.
Alternative Access Choices
A small footprint shouldn't mean sacrificing safety and stability. All Paragon stairs meet strict in house structural standards. Every design goes through a review by our team of in house engineers to make certain it's ready for regular use. We also offer a wide range of safety features for every spiral staircase. Our code certified designers help you make the right choices to ensure that your staircase will pass inspection and meet your local requirements.
Alternatively, we also offer traditional pull-down attic ladders that can be concealed discreetly. Each of these also provides a reliable level of safety and stability for your attic access needs.

POPULAR STAIR CATEGORIES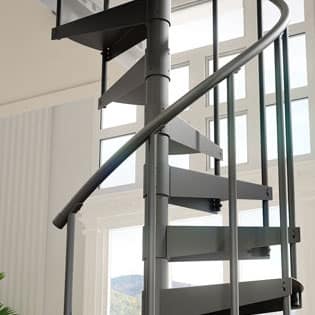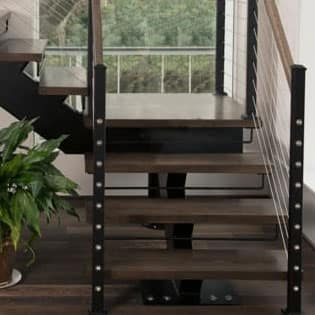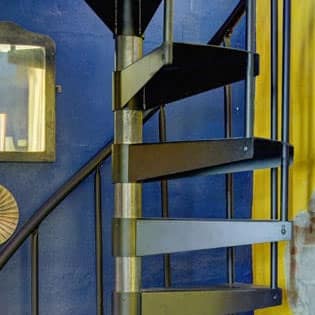 Custom Designs
With over 5,000 configurable options, Paragon Stairs has the right spiral staircase for your attic. You want a staircase that's going to fit your home's aesthetic. Because attics are usually an afterthought, their stairs don't get the same design considerations or finishing touches that other parts of your home do. With both metal and all wood options, it's easy to customize your attic spiral stair to fit your desired aesthetic.
Paragon provides a wide array of potential attic stair solutions you can customize to match a number of interior themes, making the stair a thought-out focal piece and more than just a means of access. With choices such as custom balusters, ivy stenciled tread risers, and other decorative features, this customization process is simple and the end result is beautiful.
Lasting Durability
An additional benefit of a spiral staircase over a pull down ladder is the sever reduction in maintenance. A pull down ladder is something requiring replacement every so many years just to maintain basic functionality. A spiral stair, however, has the lifetime of ten pull down ladders. You can install an attic spiral stair once and never have to worry about its reliability again. Furthermore, the DIY kit nature of several of our spiral stair lines make them considerably easier to install than a pull down ladder, which means reliable access for you sooner instead of later.
Once you have easier and prettier access to your attic, you might find yourself ready to take your attic space to the next stage past simple storage. A new hobby space or reading space might be the perfect next addition to your home. A spiral stair can easily inspire you to get there.
Take the time to speak with a representative from Paragon now to see how we can offer you the best in attic accessibility.