Beach Stairs
A shore home means your getaway from the stress of the daily grind. So you want everything about it to resonate with convenience and style in order to make your time there as pleasant as possible. One feature of your shore home you likely enjoy is your rooftop deck, or maybe your balcony. To enjoy these features you want simple and reliable access, which means a shore home stair.
One issue to consider when looking at how to build shore house stairs is space. Real estate is gold in shore home or waterfront property areas around the country. Which makes a space saving stair a great direction, and an important one in order to maximize your space use. A spiral staircase makes a great solution for shore home stair needs. The structural footprint is purely vertical. Houses tend to follow a more vertical build as well in these shore front areas. Homes can stack atop each other even when sold as separate units. So any other structural elements designed to provide access need to follow this vertical pattern.

POPULAR STAIR CATEGORIES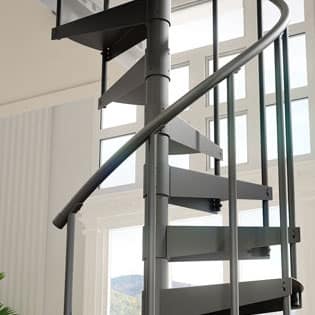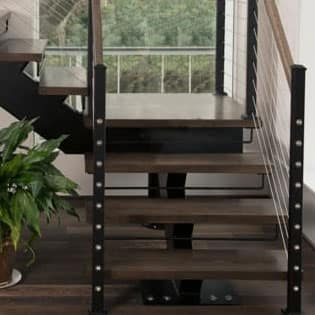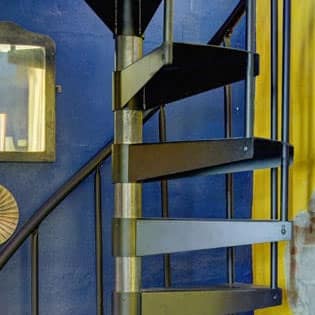 Shore House Stairs: Space Saving
Aside from the consideration of home units building vertically in shore font locations around the country (and thus the need for small footprint stairs to access upper floors and balcony or deck features from the exterior), there's also the matter of interior space being a little tighter. Pair that with the loft style or open concept of several of these beach homes and you have a great setting, and need, for a solid spiral staircase.
An outdoor spiral staircase also provides easy access to a shallow balcony such as a Romeo and Juliet Balcony. Or if you need a streamlined, multi-floor access point for each stacked housing unit on the exterior, a two or multi-story spiral stair makes a great solution.
Waterfront Stairs: Materials
While the salty sea air is relaxing, it's also a corrosion nightmare for standard steel stairs, which is why you have to consider your material options carefully if you want your stair to last as long as your shore home.
One great, go-to solution for a waterfront stair is a galvanized steel spiral staircase. The galvanization process armors the stair against any outdoor elements. It also happens to give the stair a great nautical look and feel thanks to the battle-ship gray coloring. So if you want to make sure your shore home has the appropriate seaside theme, galvanized might be the right direction.
Beach Stair Designs
In addition to the nautical theme available with a galvanized stair already mentioned, there are several other design opportunities available through a spiral stair installation.
The bright look of a white, powder coated aluminum spiral staircase meshes well with the interior of coastal homes. Bright whites, blues, and sandy tones are all common trends in shore house color schemes, so a white aluminum stair with sandy toned, wood treads might be your ideal match.
This color scheme would be great for interior and exterior use. Though for interior you can opt for a steel spiral staircase with sandy toned wood accents over an aluminum stair. Or maybe a more customized ocean blue powder coat color paired with a wood species reminiscent of the ocean boardwalk would suit the naval theme of your waterfront home.
Find out what Paragon stairs has to offer in the way of nautical themes, space-saving designs, and weather-resistant materials for your shore house stair needs today.