Space-Saving and Easy-to-Install Floating Stairs
Ideal Commercial Application
A broad, spacious foyer with a vaulted ceiling and large windows to let in plenty of natural light is highly desirable for any commercial setting, or even any contemporary themed home. However, finding a straight stair that doesn't block this large amount of natural light or deplete your foyer's open space, thus, detract from the open contemporary look, is hard.
Paragon Stairs offers custom cut and welded floating stairs (sometimes also referred to as a hanging staircase) perfect for the theme of any modern space. Each hanging stair comes made to order and fits like a glove to the exact dimensions of every project. So none of our floating stairs are a standard size, and the custom engineering allows the stair to mesh perfectly with the rest of your space and give the sensation of being just part of the architecture, which makes the architecture itself appear elevated in terms of modernity. This elevated modernity also gives your space that eye-catching, suspended stair feel that makes anyone traversing the stair feel as though they're walking on something from the future.
This uniqueness makes a floating staircase perfect for unusual application in luxury settings in need of a strong statement piece. One such example of a unique luxury setting is a yacht or boat house interior. Picture the modern appeal of a floating staircase with treads made from the right exotic wood contrasted with the right decorative accent wall acting as a sort of backsplash that really heightens the illusion of the treads floating on air. Including this kind of pairing in your yacht's or boathouse's interior design will really turn the idea of luxury up a notch. This application for a floating staircase applies easy for any distinctive setting.

POPULAR STAIR CATEGORIES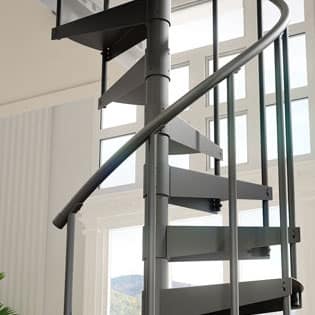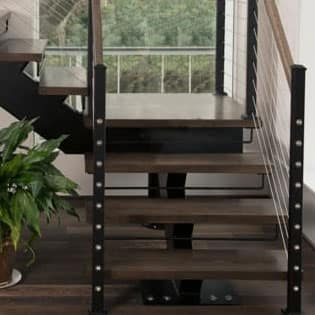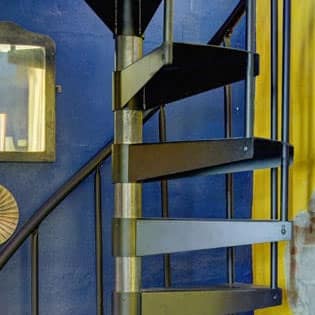 Double and Mono Stringer
Paragon offers two styles of floating stairs at different price points to help you achieve that suspended look on a budget at various ends of the spectrum. One is the double stringer (stringers are the support beams that run beneath the steps). As the name suggests, this model has two stringers that run down either side of the stairs.
The other is the mono stringer. This version takes the minimalist look to a new level as it only has one stringer that run down the center of the hanging stairs.
Both styles provide you with a minimalist appeal with nearly invisible support and an open air look.
Custom Cut and Welded Stringers
Paragon doesn't offer any stringers off-the-rack. We make each floating staircase to order by cutting each stringer to fit exactly to the dimensions of your space. That gives you the ability to look at your space and envision the most effective and effective way—both in terms of aesthetics and utility—to fill it with a stair. Let our designers go over the measurements of your space to create the ideal fit.
Floating vs Cantilevered
One style of stair that's similar to floating stairs but is not quite the same is a cantilevered stair. Unlike floating stairs which use a stringer, cantilevered stairs obtain their suspended look through bolts and brackets that affix the steps directly to the wall.
While the look of a cantilevered staircase is impressive, the structural style is not as sound or reliable as that of floating stairs with a solid, welded steel support beam that runs the length of each flight. Alternatively, a cantilevered stair relies on the security of just whatever bracket and bolts hold the step to the wall. With Paragon, you only get the most advanced in structure and support engineering for stairs.
Custom Dimensions and Direction
In addition to custom cutting and welding each stringer ad hoc for each project, Paragon further makes it easy to fit mono or double stringer floating stairs exactly to your space by offering custom sized platforms and switchback. These platforms and switchbacks make it easy to change the direction of flights as needed to make the best use of your room's layout and to flow with existing structures rather than work against them.
Modern and Open
The floating stairs design is the epitome of modern engineering elegance in terms of architecture and interior design. No other style of stair allows you to perfect the modern and contemporary aesthetic in your commercial or residential space. The look of free floating stairs transports your space to a new level of urban chic appearance and fashion-forward décor. The only sensation that better transports you into a peek of the future than looking up at grand floating stairs sweeping across a high vaulted ceiling is walking on one while looking down at the open air below.
Furthermore, Paragon can customize the material of your treads with over a dozen different wood species to match your interior design perfectly. We can also work with you to use other materials for a completely unique. Just speak with our designers about your ideas. Pair your personalized step material with sleek, cable railing for a classy combination sure to heighten the level of elegance in your foyer or other open space.
Take advantage of Paragon's ability to custom cut, weld, and configure the ideally sized and designed floating stairs. Work with one of our designers to learn more about our numerous materials and see just how well a mono or double stringer can augment the look of your modern space, whether it be commercial or residential.