Loft Style Homes and Spiral Staircase Benefits
Loft style homes offer several attractive amenities to today's home owner in terms of modern lifestyle satisfaction. This is because the modern lifestyle demands broad open space, minimalist décor (which is dependent on the first demand), high functionality, and even high multi-functionality made possible by flexible, agile-like spaces that can convert in a matter of minutes to accommodate changing needs throughout the day-to-day grind. All of these demands become even easier to fulfill with a loft style home through the inclusion of a stylish, modern, and functional spiral staircase made from prime steel. A simple black matte spiral stair is an excellent solution to all of these requirements.
Loft Style Homes and Space
Doubtlessly, a spiral staircase is also a space saving staircase. This is because of a spiral staircase's strictly vertical footprint. The treads stack atop on another rather than stretching out over a long, straight flight. This makes a spiral stair especially suitable for installing in a loft style home as such a home either 1) has a smaller amount of space to work with and/or 2) has a modern theme, so installing structures that use minimal space helps maintain that modern theme and maximizes space use.

POPULAR STAIR CATEGORIES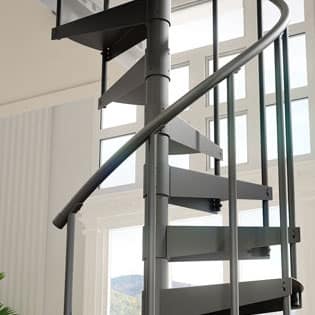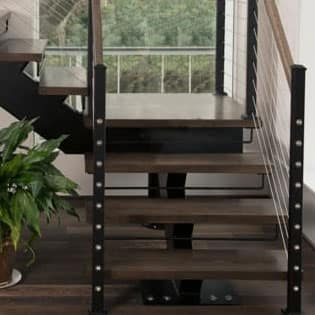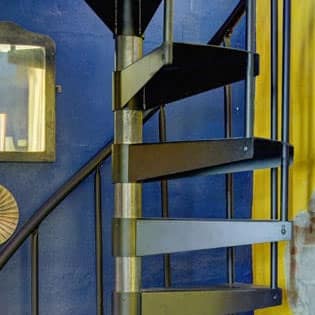 Loft Style Homes and Style
Aside from augmenting the minimalist aesthetic in loft style homes, a spiral staircase also heightens the look of a modern space thanks to its unique, winding shape. The whimsical, twisting motion of the railing and stairs as they climb up to the above floor offers a number of decorative opportunities to create something unforgettable in your home.
The twisted structure of your spiral staircase can act as an eye-catching center piece in your loft home. Or it can act as a center point that dictates how your orient other decorative objects in your room, giving you a stylish arrangement and interesting use of space. Picture arranging a gallery of pictures to be at eye level with whomever is ascending the stairs, so the different gallery images also have to climb up the nearby wall.
Loft Style Homes and Function
Many modern home owners need their home space to serve as more than just living space. Homes often need to cater to face-paced, virtual work-from-home needs. So a loft may often serve as a seating area on the weekend and an office during the weekdays. A spiral staircase makes meeting this plethora of space use needs easier. Where before you may have had only the scant, angled ceiling space beneath the overhead flight available, you now have a completely open air space, which is so much more versatile than the space beneath a traditional stair.
Loft Style Homes and Multi-Function
Keeping versatility in mind, a spiral stair not only helps with increasing usable space, it also helps with making space multi-functional. Loft style homes and apartments, with their open floor plans, often incorporate things like pull-down beds so a space can be a daytime living area one moment and a bedroom the next. Incorporating a spiral staircase into your floor plan also leaves room for incorporating more hidden shelving and storage. Which makes a spiral stair particularly useful for anyone that performs shop type work at home. A studio suddenly becomes a lot more feasible.
Take your loft style home's décor and functionality to where you want it to be by installing a spiral staircase from Paragon Stairs today.