Modern Spiral Stairs
What is a Modern Staircase?
"Modern" encompasses a wide range of decorative approaches that all look to accomplish one basic idea; "less is more." Creating this desirable style of interior design sounds easy, however, any design that's not only utilitarian but aesthetic in purpose—so most any space in your home—as well will include things wanted and things needed. So keeping the layout to a minimum really isn't as easy as it sounds when you have to include both categories of objects in your decor.
One helpful tip for accomplishing this is to ensure that not only decorative pieces add to the clean, sleek look, but functional pieces do as well; pieces like your staircase. A great example of a modern staircase is a spiral staircase.
A type of staircase is perfect for creating the contemporary look because it not only can possess clean lines and an overall clean silhouette, but it also has a very small structural footprint, which means it occupies minimal space. Less space occupied is more space open. A further benefit for the modern design aesthetic from a spiral stair is its ability to let a greater amount of light through. The slim silhouette of a spiral stair, as opposed to the comparative blocky structure of a traditional straight stair with a faux wall, blocks a minimal amount of light. Modern spaces call for good lighting to look brighter and more open.
Paragon Stairs offers a wide range of modern spiral staircases that are clean in design and excellent space-saving solutions.

POPULAR STAIR CATEGORIES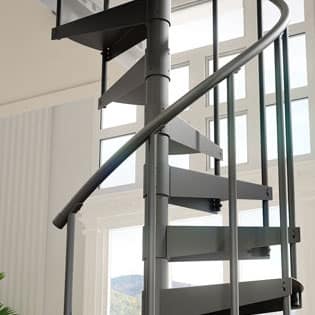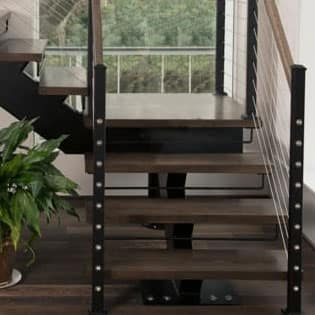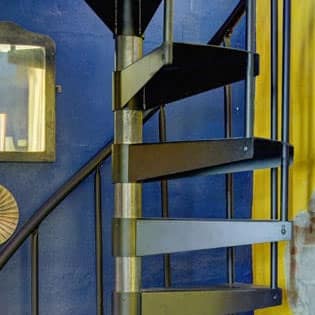 Advantage of Primed Steel
To get that desired minimalist, modern look, a great material selection is primed steel. Paragon's primed steel line comes primed and ready to paint, or, if you want, we can paint it any custom color of your choice.
Typically, to stick with a modern look, a neutral color is the best way to go for your color palate. But you can go with something saturated and bold too in order to create a statement piece with your own brand of modern. Using a bolder color allows for a great way to set up an opportunity to create some stark contrast between the larger pieces in your space as well.
Or, you can leave some pieces unpainted and go with a brushed chrome look, which is also conducive to achieving the modern look as chrome reflects any lighting in your modern open space and makes it seem even brighter. To add to the ability of light to reflect off and pass through the stair, Paragon gives you the option of fewer spindles or balusters per tread. This means less material to obstruct the passage of light and a more modern, open air look.
Minimalist and Space-Saving
Because spirals have a strictly vertical structure, its overall structural footprint is significantly smaller. That means more open space and more freedom for choosing where to install the stair within your room, which allows you to better lay out everything else in your room to construct or maintain an open and minimal feel.
It's possible to have two rooms with the same dimensions and duplicate objects, but one can still look significantly more cluttered than the other just because of the way you place those objects. This is a problem more likely to occur if your range of options for stair placement is limited, and therefore, your overall object placement is semi-determined by the stair before you even begin decorating. A spiral stair helps solve this potential issue prophylactically by allowing you greater freedom of choice for placing the stair.
Less Is More
Remembering the motto "less is more" provides a great way to help you better conceptualize your overall design. This is because it better enables you to figure out just what you or a given space actually need before anything else and then go from there, while keeping you original needs in mind.
A modern spiral offers a great starting point for heading down this empowering path of less is more as you solved for the transport between floors you need and will use without teetering into excess either as it applies to space occupancy or design style. This path of less is more can also give you a clear direction in terms of budget as you figure out exactly which furnishings should occupy a space. A streamlined, modern stair means clearer direction for aesthetics and spending.
Contemporary Stair Designs
Keeping the clean design, primed coat, possible chrome colored accents, space saving structure, and overall modern appeal in mind, a steel spiral stair is also a great addition to any metro or urban residence working with a tight space while trying to be fashion-forward.
A loft or a studio apartment in a downtown area would look great with a simple spiral stair painted all black and accessorized with simple tube spindles and railing. The straight black would be perfect with a bare brick wall, bright white wall, or neutral colored wall. Such a stair can really set the tone for an artist's home gallery or studio.
Commercial Applications
A spiral stair also offers a great way to make a powerful impression as a cutting-edge organization. The lobby of an upscale hotel or apartment occupied by a grand spiral stair placed front and center for anyone to see immediately upon walking through the front doors will stand out against any competition's lobby as a unique and desirable, making your establishment the prime choice as the place to stay or live. This is because the contemporary and open look of the stair says that yours is a place that offers every modern amenity in the rooms.
That impression of modernity applies to other commercial spaces as well. An office building designed to impress potential clients can certainly benefit from the unique aesthetic generated by the addition of a spiral stair. A restaurant in a busy nightlife area of downtown could also pull in a lot more passerby traffic by placing a spiral stair that leads from one bar to a rooftop bar.
Paragon wants your business, hotel, restaurant, office building, or apartment building to have the most polished, modern veneer possible. That's why we'll work with you to design a modern, chic spiral staircase certain to give off an air of urbanity and modernity that sets your establishment apart as the best at what you do in the most cutting edge way.