Benefits of Residential Stairs for Homeowners
Residential Staircase Uses
As a homeowner, you understand the value of regular upgrades, renovations, and remodel jobs like installing a residential spiral staircase in your house. You also take pride in the fact that, unlike apartment renters, that you get to make any calls as far as what can and can't be done to your home's interior or exterior and you aren't answerable to any landlord. If you're installing a staircase you don't have to keep it a certain color or material, you're free to choose whatever fits your personal tastes from forged iron spiral stairs to solid wood spiral stairs.
Aside from tracking what does and doesn't add value to your house in terms of potential resale down the road, and possibly keeping any structural additions code compliant, you can essentially do whatever you want.
However, with that pride also comes the responsibility of taking care of every remodel and renovation yourself. If you're the one paying for the remodel, you want to make certain that everything included in your project adds to your home's look, value, and functionality. That last one is a big kicker—you want additions to have a high value add for day-to-day use. This is a great deal of how you define yourself within your residence—you are a homeowner, and while your home is a residence, you're not a residence owner. "Residence" just means the category of use as far as you're concerned.
That's one factor to keep in mind as you shop for anything involved with an upcoming project. You own a home and any upgrades may be thought of as home improvements, but in terms of the uses and functions of the things, you can help yourself by thinking of things as having a residential use or a commercial use. So if you're looking to install a staircase you want to make sure it serves well as a residential spiral staircase. The staircase you're installing needs to provide the right use for your daily needs before you can be confident about spending your money.

POPULAR STAIR CATEGORIES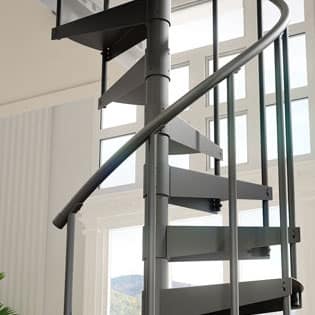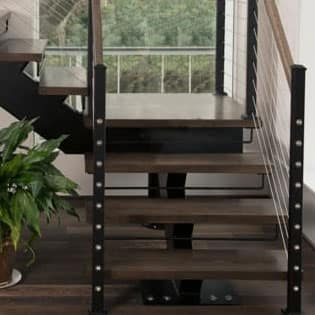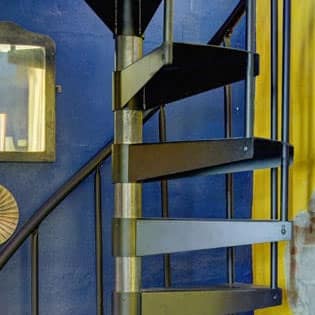 Interior vs Exterior Residential Staircases
As a homeowner, some of your more likely uses for an indoor residential staircase may include a basement staircase, attic staircase, or a loft staircase. Luckily, when it comes to indoor uses, you have greater freedom of choice in terms of material. Your biggest concerns are your dimensions and matching your home's overall look, whether that look is modern or Victorian. In terms of metal staircase materials, primed steel is a popular option for indoor uses as it is economical and offers a sleek, modern look that matches with most contemporary homes.
Common exterior residential staircase uses may include deck stairs, balcony stairs, or even treehouse stairs if you're talking about more recreational stair uses. In these cases, you do have to consider material a little more in order to satisfy any use you may have in mind. This is because some materials are more sensitive to outdoor elements. So you may want to stick to either galvanized stairs or aluminum stairs. That doesn't mean you have to be limited in the look of your staircase, though. An aluminum deck stair can be powder coated any custom color you want to match your outdoor décor. You can even accent it with a variety of suitable outdoor wood species for an extra touch that's rustic or elegant. And galvanized stairs take on a desirable battle-ship gray look once they've gone through the 6-month weathering period, so they still offer an attractive look while offering high utility.
Utility Residential Stairs
Most residential stairs won't have to handle anything other than foot traffic on a daily basis, but in some instances, you may require your staircase to hold up to something a little heavier. Perhaps your run a business out of your home that involves a shop. Or maybe you're just a hobbyist or enthusiast of some kind when it comes to something motorized or anything that involves mechanical tinkering. This may call for a heavier garage stair leading up to a garage loft where you store materials or tools. Another example may be that you have a barn on your property with a hay loft. Any of these instances may call for a residential stair that's touch and durable.
Whatever your residential stair need in your home, Paragon Stairs is happy to help you figure out exactly which stair best lives up to your intended purposes. Get in touch with us today and we'll get started on designing the ideal match to your home project.