Spiral Staircase and Outdoor Deck
Outdoor Focal Point
Creating an easy access point to an elevated deck that doesn't take up too much space and also matches your outdoor design themes is a very difficult task. Your backyard is your weekend relaxation spot not just because it's a space away from stress, but because of the look you either already built into it or want to build into it. So the staircase you select has to integrate with this look and maintain the serenity offered by the atmosphere, not interrupt the flow of it.
An eye-catching focal point contributes to a beautiful backyard deck. The whimsical yet symmetrical geometrical shape of a spiral staircase offers an excellent way to accomplish this. Using the spiral staircase as a starting point, you can then arrange several other elements of your backyard to create an outdoor deck, garden, or patio area that flows and directs the eye.
If your getaway is already built for the most part and you just need to add a staircase, then you can also pair the spiral stair with other various outdoor structures besides a deck. Picture a spiral staircase with a raised gazebo, or raised gardens arranged in a careful pattern. Any number of high-design backyard concepts would greatly benefit from the unique shape and style of a spiral staircase.
With a focal point as fanciful and classic as a spiral staircase, the potential for various original and beautiful designs is almost too high to count. These designs are also easy to create.

POPULAR STAIR CATEGORIES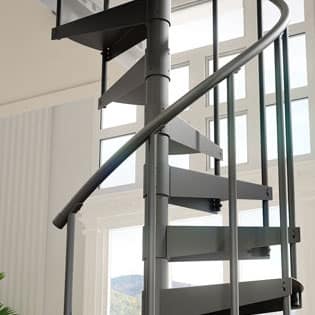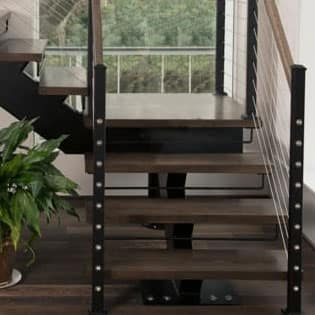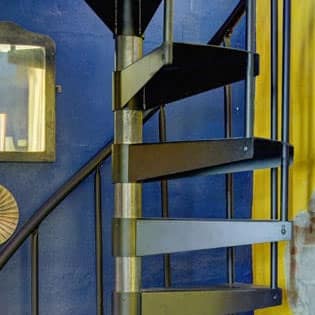 Front Yard Deck Staircases
And these benefits of creating a focal point using beautiful geometrical lines don't have to apply to just your backyard either. One trend becoming more and more popular with modern outdoor renovations is the installation of front yard decks. Not only does this trend make use of what might otherwise be just entryway space, it also provides homeowners with the opportunity to heighten their home's curb appeal (something that's always important for home value) in a more inventive way. Bringing indoor out is very popular, so furnishing a front yard deck and balcony combination and adding easy access with a spiral stair makes for an excellent and modern front yard setup.
In the process of building and fleshing out a front yard deck to add to your home's useful, recreational space, the installation of an aluminum deck spiral staircase with a specific theme in mind in your front yard allows you to hit another new trend with outdoor designs—a grand entryway into your home. Combine the eye-catching shape of a spiral staircase with the element of a front statement gate and your front yard will leave a much stronger first impression than a standard painted front door.
Convenient Access
Gaining access to your deck isn't always easy. Most homes just have a back door leading directly onto the deck. So anyone on the second floor has to go downstairs first. For example, anyone on the first floor patio would need to first go inside to ascend to the second floor.
With a multistory spiral staircase, you could go out the French doors on your second floor to your balcony, down to your raised deck, and then all the way down to your patio without having to go back inside once. You backyard setup may not have all three of these elements, but you can see how a spiral stair can easily attach any or all of them and streamline your access.
Keeping the access between backyard elements streamlined would make entertaining guests a lot easier on the weekends and holidays. Your guests can go between any floor in the house and any backyard element without having to wander all over your house.
Heightened Utility
Part of enhancing the beauty of your yard includes making it easier to access your yard and its elements to do regular maintenance. So ease of access may be about getting to your relaxation spot, but it can also just be about greater functionality for yard work. This makes a spiral staircase not only aesthetic, but utilitarian as well. This is because accessing your deck, patio, gazebo, or any other backyard elements and structures to do some maintenance is also a lot easier with a spiral staircase connecting some or all of them.
And with better utility comes increased safety. You need sure footing for daily use and you especially need sure footing when doing chores that involve carrying tools.
With a spiral staircase, you have the option of steps that come with either diamond tread for improved traction or fan grating to allow snow and rain to pass through rather than build up. Both of these make for safer steps than traditional wooden or even laminate steps outdoors. And if you live in an area that sees a lot of this kind of weather, then a spiral staircase is an especially shrewd buy. So a spiral staircase allows you to go about your outdoor chores with the added benefits of safe, reliable footing and convenient access.
Lasting Durability
One issue you may often encounter with any outdoor structure is making sure it lasts. With constantly changing temperature, weather, seasons, and everything else that goes with outside, getting something that can stand up to the harshness of outside climate can be a challenge. And sometimes a standard set of deck stairs just may not be up to it. And you don't want to have to repair or replace your exterior spiral staircase when you should just be enjoying your deck. Another great aspect of a spiral staircase is the range of materials available for building it. Unlike most traditional outdoor deck staircases built from wood, you can get a spiral staircase built from either galvanized steel or aluminum. Both materials work very well for outdoor settings as both will last a long time without corrosion or needing any upkeep.
This makes a spiral staircase the perfect choice for backyard getaways located in areas that see higher rainfall or other precipitation. They also work well for any waterfront homes such as bayside or ocean front houses. And time at a vacation home is definitely not time you want to dedicate to any kind of home owner maintenance if you can help it, which is all the more reason to get something like an aluminum spiral staircase you know will last forever.
Ease of Installation
To add to the appeal of an exterior spiral staircase, it's much easier to install than traditional deck stairs. A kit spiral staircase is something any average homeowner can put up in the course of a weekend without too much trouble. That will give you more time to enjoy your backyard. There are also fewer tools involved, so you'll have less mess to worry about along the way.
Discover what Paragon can offer for all of your exterior spiral staircase needs and get in touch with us today. One of our helpful stair designers will be more than happy to go over each option with you to ensure you find the ideal staircase option for your project needs.