Two-Story Staircases
Large Spiral Staircase
In most residential staircase applications, a one-story staircase that connects two floors suffices. However, there are a number of instances that call for a two-story spiral staircase, or even a three-story spiral staircase. Luckily, Paragon Stairs has the manufacturing capacity to design any one of our staircase lines to reach the height of three stories or even more. Because we offer this in each line, we also make it easy to find a staircase that not only reaches the height you need, but that also offers the look and functionality you desire.
Two-Story Staircase Designs
Indoor:
If you install something so big as a multi-level staircase, you not only want something safe and reliable, you also want to make a statement. A spiral staircase of that size stands out, so it's worth your time to go over the design in detail to obtain the exact aesthetic you want.
If you have a home library or study with high shelves, one of our Configurable Forged Iron spiral staircases would be perfect. For a large, open air foyer a Configurable All Wood spiral staircase can add a great, classic touch.
Outdoor:
For exterior spiral staircase applications, you might have a backyard deck or patio with a balcony directly overhead, and directly above that balcony is a rooftop deck. A single, multi-story spiral staircase could be the perfect application. The purely vertical design of a spiral staircase allows you to connect all of these outdoor features without taking up too much space, which leaves you more room for other desirable outdoor features such as a fire pit, pergola, meat smoker, or even a full outdoor kitchen.

POPULAR STAIR CATEGORIES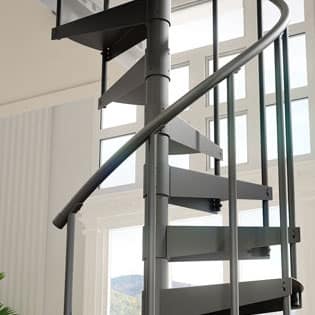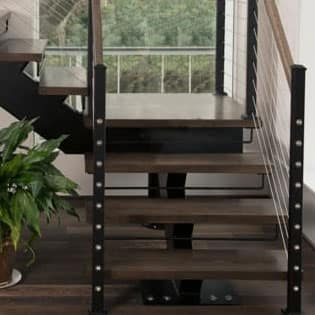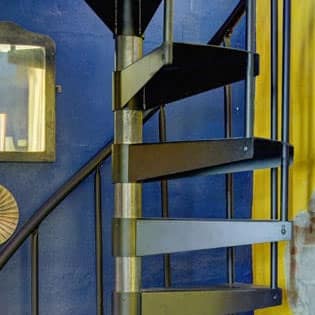 Warehouse and Shop Staircases
Looks aside, your staircase may be for a much more utilitarian function, like providing stocking personnel in your warehouse or shipping center access to all items on exceptionally high shelves. Paragon's staircase lines all come with IBC compliant and OSHA compliant features, making it easy to satisfy any safety needs for your employees.
Maybe your large commercial space is a plant or some form of shop, so you have lots of in-house materials, equipment, parts, or manufactured products to store. The same need applies for reaching all the shelves with ease. As with any piece of equipment in a shop, your staircase sees hard use. Something armored enough to stand up to the grit and dirt of a shop while remaining safe and reliable for a long time is what you want, making a Configurable Galvanized spiral staircase perfect.
Multi-Family Home
Aside from private residences, another category where a multi-floor spiral staircase can come in handy is any type of multi-family home. Several spiral staircases that connect every floor placed at convenient locations can make your apartment building a lot more appealing for potential tenants.
The use of a spiral staircase also allows you to dedicate a lot more space to additional amenities. It's difficult to remain competitive as an apartment building in a metro area, so the more amenities you can include the better. Plus, additional space for any reason always appeals to residents in a metro area.
Multi-story housing complexes in uptown locations surrounded by several nightlife hot spots have to put in extra effort to stand out and remain competitive. New benefits like bike garages, on-site gyms, easy and convenient street access that almost seem to blend the indoors with the outdoors through clever segues are almost expected these days. The use of a multi-level spiral staircase helps make every one of these features not only doable, but simple.
Three-Story Homes
Some homes may require a two-story or more spiral staircase without any special backyard features. You may have a balcony on the top floor of your three story home and that's all it takes to call for a multi-level spiral staircase. Especially if you live in a metro area where several of the historical home styles have a more vertical built, such as rowhomes, or triple deckers. A multi-story spiral staircase makes any type of outdoor access much easier in any of these instances, either as a fire escape staircase, street access, or just a direct route to the top floor from the outside.
Amusement and Adventure Parks
Adventure course stations easily call for higher than average staircases. Whether it's a ropes course or zip line, if your adventure attraction is high in the trees, a standard spiral staircase likely won't do the job. The small structural footprint of a spiral staircase also makes it easier work with the layout of your adventure course stations.
A two-story spiral staircase with well-placed platforms can also make it easy to connect all of the different stations in your adventure course. An adventure course is not the same as a house or other residential structure. The various adventure challenges have a staggered layout. Paragon's stair designers will ensure each of your staircases have the right rotation and platforms to keep all of your challenges stations connected seamlessly.
Find the ideal solution for your multi-floor staircase project with Paragon Stairs. With our broad selection of materials and styles, finding the right look and features for your intended use is an easy matter.