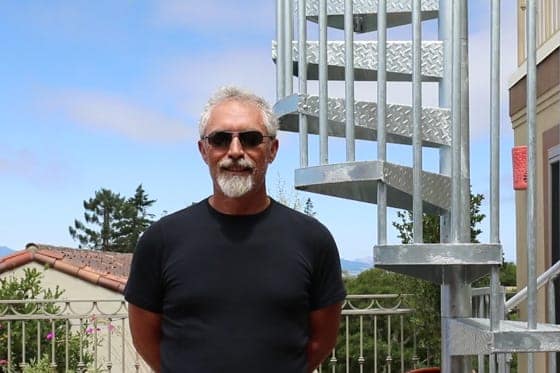 Mr. Hammar's Story
Mr. Roger Hammar is a contractor and completed this homeowner's new rooftop deck. Connecting the finished rooftop platform to the upper-level deck posed a unique challenge to this project. Specifically, the job required a safe, space-saving, and aesthetically-pleasing Paragon staircase.
Satisfying the Homeowner's Needs
The homeowners needed a means for moving between the two different levels of the deck but, since the two platforms were relatively small, were not interested in compromising the available space for entertaining. Additionally, compromising the safety and accessibility of the staircase was not an option for Mr. Hammar's clients. The ideal solution was an all-weather staircase with a small footprint and mounted handrail. Mr. Hammar found that solution when he purchased a galvanized steel spiral staircase from Paragon Stairs.
Mr. Hammar took comfort from Paragon's lifetime warranty on metal fabrication, ensuring his customers' staircase had the integrity and strength capable of withstanding constant outdoor exposure. Additionally, Paragon implements several proprietary in-house engineering features with every staircase which improve safety and eliminate the potential for degradation (such as rusting or warping) over time. Best of all, the spiral design this particular staircases' footprint to a 42" diameter circle, preserving most of the entertaining space on both platforms. His customers were thrilled with the end result.
"Installation went very smoothly…Everything arrived and was installed seamlessly."
Mr. Hammar was similarly satisfied with the experience. As a business owner, he found Paragon's unique consultative design and buying process helpful and time-saving. Paragon's designer helped troubleshoot the solution, providing the proper-fitting product by utilizing Mr. Hammar's measurements. The final staircase was shipped directly to the jobsite and installation was quick and easy. Ultimately, Mr. Hammar avoided many of the headaches that accompany atypical construction projects by working with the team at Paragon Stairs.