Design Your Adjustable Aluminum Stair
We Offer a Wide Range of Styles and Options to Create Your Custom Stair Solution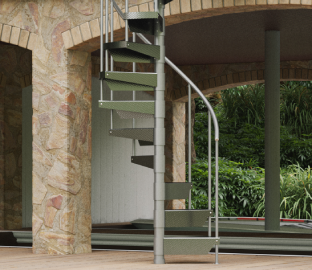 Our Adjustable Aluminum spiral stair gives you weather resistance and style in an affordable, flexible package. The treads can be shifted to meet your space's exact height making measurements for your project an easy task. With a wide range of railing and tread options, you can design the perfect spiral for your space.
The Adjustable Aluminum Spiral works great for:
Uses: Outdoor | Deck | Beach House
Styles: Coastal | Minimalist | Functional
Price Tier: Tier 2 [$$] | Tier 3 [$$$]
(Learn more about our price tiers)
Adjustable Aluminum Tread Profile
Find the right riser design for your safety and style requirements
Handrails
Get the perfect match with Paragon's Raw Aluminum Handrail
Aluminum Aluminum handrail with dome end cap
Baluster Type
Adjustable Aluminum stairs come with a range of railing options to perfect your stair design.

Adjustable Aluminum Finishes
The Adjustable Aluminum Stair comes in a weather resistant raw aluminum finish.
Direction
Find the right entry and exit points for your spiral stair by choosing either a clockwise (Right Hand Up) or a counterclockwise (Left Hand Up) design.

See How Paragon Delivers a Best in Class Experience