Design Your Compression Series Spiral Stair
We Offer a Wide Range of Styles and Options to Create Your Custom Stair Solution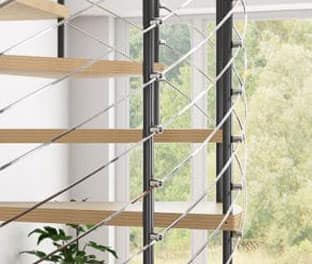 Our Compression Series Spiral maximizes strength and beauty in a new, lightweight package and is available in in-stock and custom configurable stair kits. In-stock kits ship within 7-10 business days. Configurable stair kits offer endless options, including our highly coveted stainless steel ¼" line rail, and is our easiest spiral staircase to install.
The Compression Series Spiral works great for:
Uses: Indoor | Living Room | Loft
Styles: Modern | Unique | Transitional
Price Tier: Tier 2 [$$] | Tier 3 [$$$]
(Learn more about our price tiers)
Compression Tread Profile
Find the right riser design for your safety and style requirements
Compression Tread Material
Discover the perfect tread material to heighten the overall look of your stair and match your space.

Handrails
Designed with multiple functions in mind, our Compression stair comes with several handrail materials available at different ends of the price spectrum.
Baluster Type
Compression stairs come with a sleek and modern stainless steel cable rail connected with vertical balusters.
Non-Welded Line Rail In Stock
Finishes
Besides standard options, Paragon gives you the option of customizing the color of your finish to whatever you want.
Direction
Find the right entry and exit points for your spiral stair by choosing either a clockwise (Right Hand Up) or a counterclockwise (Left Hand Up) design.

Number of Platform Rails
Add the right level of safety to your stair with railing for any side not against a wall, whether it's just one rail or a full enclosure.

See How Paragon Delivers a Best in Class Experience