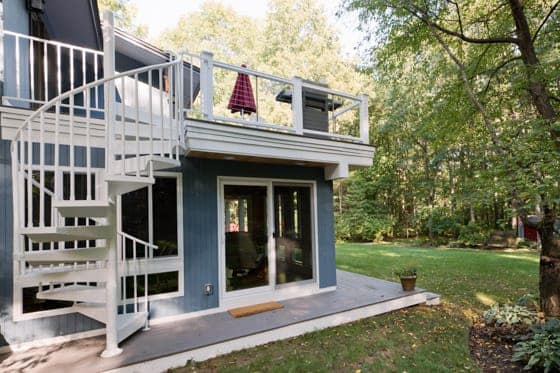 Configurable Aluminum Spiral Staircase
The Configurable Aluminum Spiral Stair offers a balance of style and durability for your outdoor spaces. The rust prohibitive aluminum frame provides a maintenance free base for a long lasting solution that can be customized to match your home design. Our powder coating finish can be a subtle neutral color or custom color matched for a unique centerpiece. With a wide range of configurable options, you can create your ideal staircase for your backyard.
Design Your Configurable Aluminum Spiral
We Offer a Wide Range of Styles and Options to Create Your Custom Stair Solution
Let one of our expert stair designers stair designers work with you on important decisions such as location, measurements, rotation, design, safety, and building code considerations so you have the best fit for your project.
Aluminum Tread Profile
Give your Aluminum Spiral Stair a simple profile with our standard tread or an elegant design with a curved riser.
Aluminum Tread Coverings
Choose the right tread cover for your space, including a wood covering to match your deck or textured steps for extra safety.
Diamond Plate Raised diamond pattern for a non-skid surface

Grated - Hand Weld Open grate to allow the pass through of rain or snow

Solid Wood Tread Cover Solid wood accents for your stair available in all offered wood species
Wood Covering Type
Create a cohesive backyard design with solid wood step covers that match your deck boards.
Handrails
Our handrail options accent your spiral stair design while holding up to constant outdoor exposure.
Aluminum Aluminum handrail with dome end cap

Solid Wood 3" Bead & Finger Groove Shaped solid wood 3" handrail
Baluster Type
Complete your stair frame with decorative spindles that accent your design.
Number of Center Balusters
You can close any large spaces in your stair frame by choosing the number of center balusters on each step.
Matching Platform Railing
Maintain the style of the rest of your stair railing by continuing it into the platform. Each platform rail uses the same handrail and balusters as the rest of the stair.
Finishes
The Configurable Aluminum Spiral Stair has the option of a powder coated finish with an unlimited range of shades and colors for your outdoor space.
Direction
Find the right entry and exit points for your spiral stair by choosing either a clockwise (Right Hand Up) or a counterclockwise (Left Hand Up) design.

Number of Platform Rails
Ensure the safety of your spiral stair with the addition of railing around your landing platforms that are not attached to a wall.
See How Paragon Delivers a Best in Class Experience