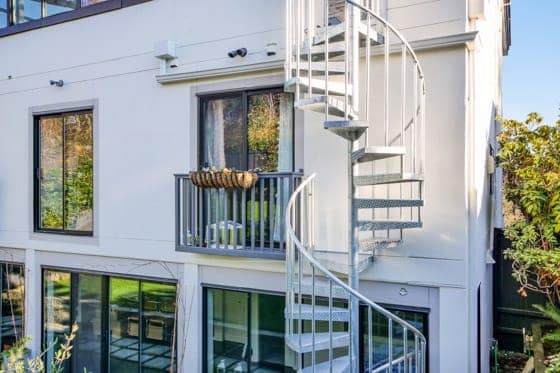 Configurable Galvanized Spiral Staircase
The Configurable Galvanized Spiral Stair meets both commercial and residential needs with a rugged and no fuss design. The defining feature of this stair is the weatherproof galvanized finish that guarantees a long life for your spiral staircase. Because it's maintenance free, this stair is perfect for both outdoor and industrial projects. Paragon offers a wide range of design options to customize the profile and frame of your stair without sacrificing any quality or durability.
Design Your Configurable Galvanized Spiral Stair
We Offer a Wide Range of Styles and Options to Create Your Custom Stair Solution
Get in touch with one of our many expert stair designers to see what options await you and your Configurable Galvanized Spiral stair.
Galvanized Tread Profile
Find the right balance of style and durability with different tread profiles.
Galvanized Tread Coverings
Different tread coverings offer safety options for your durable outdoor stair.
Standard Smooth galvanized steel tread

Diamond Plate Raised diamond pattern for a non-skid surface

Grated - Hand Weld Open grate to allow the pass through of rain or snow
Handrails
Both the vinyl and aluminum handrails are guaranteed to hold up to harsh conditions.
Aluminum Durable aluminum handrail

Vinyl Standard black vinyl handrail
Baluster Type
You can choose to add decorative spindles or keep it simple with the Tube design.
Steel Galvanized Tube Classic galvanized tube baluster

Twist Cage Galvanized Decorative cage galvanized baluster
Number of Center Balusters
You can close any large spaces in your stair frame by choosing the number of center balusters on each step.
Matching Platform Railing
Our platform railing is designed to continue the look of your stair railing, creating a unified appeal.

Finishes
Each component is treated with our thorough hot-dip galvanizing process to give it a durable armor against the rigors of labor and harsh weather. That finish will last for a lifetime of hard use.
Direction
Find the right entry and exit points for your spiral stair by choosing either a clockwise (Right Hand Up) or a counterclockwise (Left Hand Up) design.

Number of Platform Rails
Ensure the safety of your spiral stair with the addition of railing around your landing platforms that are not attached to a wall.
See How Paragon Delivers a Best in Class Experience