Design Your Classic Steel Spiral Stair
We Offer a Wide Range of Styles and Options to Create Your Custom Stair Solution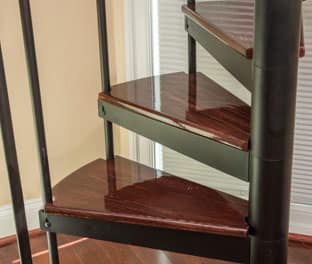 This core spiral staircase product line also features precision-engineered design elements such as hidden welds and hardware, enclosed tread ends, a continuous sleeve center column and options to customize your style with wooden accents and custom color finishes.
The Configurable Steel Spiral works great for:
Uses: Residential | Living Room | Commercial
Styles: Modern | Minimalist | Traditional
Price Tier: Tier 1 ($$) | Tier 2 [$$] | Tier 3 [$$$]
(Learn more about our price tiers)
Steel Tread Profile
Find the right tread design to compliment the rest of your staircase design, from a simple straight profile to a decorative ivy stencil.
Steel Tread Coverings
Choose the right steps for your space and style with both steel and solid wood cover options.
Standard Smooth steel tread

Diamond Plate Raised diamond pattern for a non-skid surface

Fan Cut Grated Fan cut open grate tread to allow the pass through of rain and snow

Grated - Hand Weld Open grate tread allows precipitation to pass through

Solid Wood Tread Cover Solid wood accents for your stair available in all offered wood species

Carpet Ready Flakeboard Ready for carpet stair tread
‹
›
Steel Tread Wood Covering Type
Paragon offers over a dozen wood species to help you find the right match for your project.
Handrails
As our most versatile product line, the Configurable Steel Spiral Stair offers a wide range of handrail materials.
Baluster Type
Explore your decorative spindle options to create a frame for your spiral staircase.
Number of Center Balusters
You can close any large spaces in your stair frame by choosing the number of center balusters on each step.
Matching Platform Railing
Your platform railing will blend seamlessly with the rest of your stair for a continuous, thematic look and feel no matter what railing you select.
Finishes
Complete your unique stair design with the right finish, whether it's a traditional black or a custom color.
Direction
Find the right entry and exit points for your spiral stair by choosing either a clockwise (Right Hand Up) or a counterclockwise (Left Hand Up) design.

Number of Platform Rails
Ensure the safety of your spiral stair with the addition of railing around your landing platforms that are not attached to a wall.
See How Paragon Delivers a Best in Class Experience