Design Your Custom Series Spiral Stair
We Offer a Wide Range of Styles and Options to Create Your Custom Stair Solution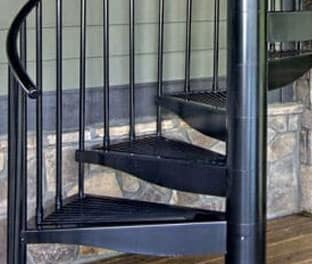 With such engineering elements as cantilevered stairs for increased load-bearing capacity and design elements such as line railing, the Custom Series Spiral has the most streamlined, modern, and clean look as well as the sturdiest build of all the spiral staircase series. This stair line also has the widest range of handrail, tread profile, and baluster styles—hence the term "custom" in the name—making it easy to build your unique stair from the ground up.
The Custom Series Spiral works great for:
Uses: Indoor | Living Room | Commercial
Styles: Modern | Traditional | Urban
Price Tier: Tier 2 [$$] | Tier 3 [$$$] | Tier 4 [$$$$]
(Learn more about our price tiers)
Custom Series Tread Profile
Both available tread profiles provide a safe and stable walking surface for your spiral stair.
Standard Standard tread profile

Code Riser Code compliant risers
Custom Tread Coverings
Accent your Custom Series Spiral Stair with a tread covering to complement your space's style.
Custom Series Wood Covering Type
Choose from over a dozen available wood species for your solid wood tread covers.
Handrails
As one of Paragon's most custom product lines, choose your handrail from a wide selection of materials.
Baluster Type
Complete your stair frame with standard square spindles.
Steel Tube Simple tube baluster

Line Rail Elegant welded line rail - no center balusters required

Non-Welded Line Rail No center balusters required
Number of Center Balusters
You can close any large spaces in your stair frame by choosing the number of center balusters on each step.
Matching Platform Railing
We match whatever handrail and baluster combination you select with your platform railing setup for a consistent look.
Finishes
Complete your unique stair design with the right finish, whether it's a traditional black or a custom color.
Direction
Find the right entry and exit points for your spiral stair by choosing either a clockwise (Right Hand Up) or a counterclockwise (Left Hand Up) design.

Number of Platform Rails
Ensure the safety of your spiral stair with the addition of railing around your landing platforms that are not attached to a wall.
With this line you have greater freedom of location selection thanks to  being able to add a platform rail for every side that does not face a wall.
See How Paragon Delivers a Best in Class Experience