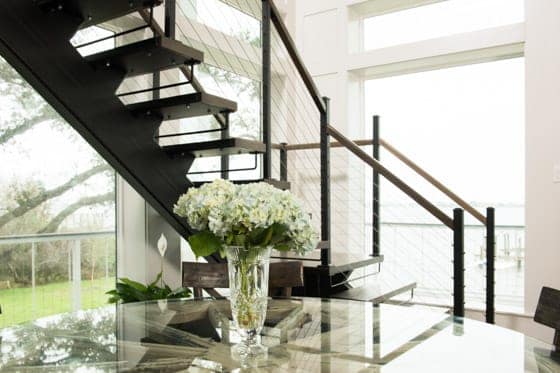 Premium Mono Stringer Floating Staircase
Paragon's Premium Mono Stringer Straight Stair gives your home sleek sophistication with a simplified floating stair frame. By keeping the frame to a singular stringer, this straight staircase simplifies the already minimalist design. Custom options are available for every part of your stair, from the step materials to your handrail. Paragon's goal is to help you create a staircase that meets your vision.
Design Your Premium Mono Stringer Straight Stair
We Offer a Wide Range of Styles and Options to Create Your Custom Stair Solution
Call us and we'll take the time to assist you with any and all stair decisions from optimal location selection to material choice for each component so your stair offers the best looks and functionality for your needs.
Premium Mono Stringer Tread Material Type
Besides our standard wood options, we can also custom create treads. Just speak with our stair designers to see what specialized options you have.
Solid Wood Tread Covering
Premium Mono Stringer Tread Wood Covering Type
Tread covers can come in any of our domestic or exotic wood options (thirteen available), three of which or suitable for outdoor use.
Handrails
Match your space's style with either a sleek aluminum or traditional wood handrail.
Aluminum Aluminum handrail
Railing Type
Our cable railing finishes your stair frame with a stylish and safe accent.
Cable Steel cable railing
Matching Platform Railing
We keep your stair's look consistent by matching your railing selection on all platform railing.
Finishes
Give your mono stringer a unique look by asking us to finish it with a custom powder coat job. You can also take your choice of domestic and exotic wood species.
Special Note on Wood
We send any wood components unfinished to allow you the option of custom finishing/staining your wood to match your interior decor exactly.
See How Paragon Delivers a Best in Class Experience