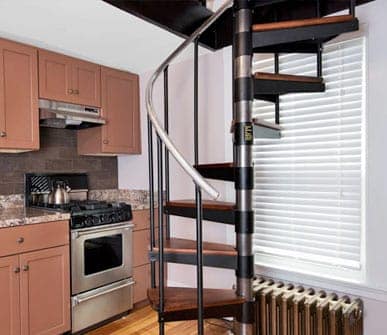 Economy Steel - Economy Spiral Staircases
Finding the right stair for a workshop or garage can be challenging. You need to find the right balance of durability and that professional look. This stair is going to take years of hard use both in term of foot traffic and in terms of load-bearing as you haul equipment and material up and down the stairs. The Primed Steel Economy stair is a great answer for high-volume work areas where you need something that'll last. It's a no-frills, working stair.
VIEW THE GALLERY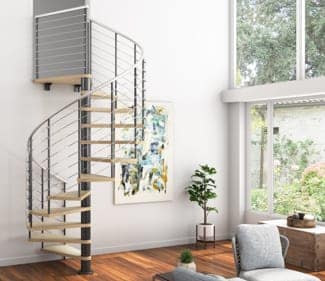 Compression Series - Spiral Stair
It can be difficult to find the right spiral staircase that meets your budget and style. The Compression Series Spiral Stair takes your stair and breaks it down into individual high-quality pieces. Each piece fits together to build up to your space's exact measurements. With a range of metal and wood design options, you can create the spiral stair kit that best meets your style.
VIEW THE GALLERY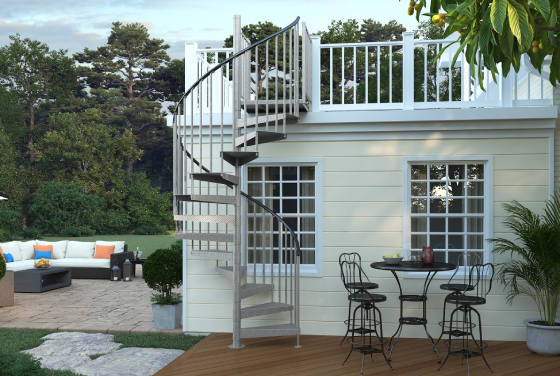 The Expedition Spiral Stair
The Expedition Spiral Staircase is the perfect outdoor stair solution for your deck with a weatherproof finish that will last through all seasons.
VIEW THE GALLERY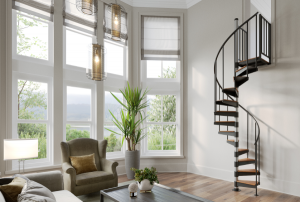 The Express Spiral Stair
The Express Spiral Stair is an affordable ready-to-ship spiral staircase for your project. With several options to choose from, you can get a high quality spiral staircase that fits your timelines and budget.
VIEW THE GALLERY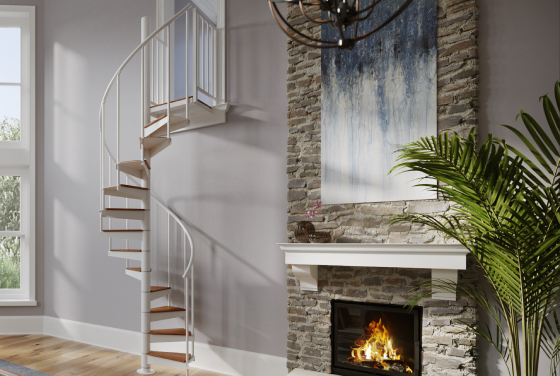 The Velocity Spiral Stair
The in-stock Velocity Spiral Stair is a premium ready to ship staircase, featuring a powder coat finish in several color options and aluminum handrail.
VIEW THE GALLERY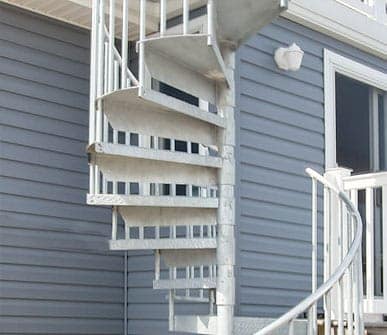 Exterior Galvanized - Economy Spiral Staircases
For a durable and cost effective solution, Paragon's Economy Galvanized Spiral Stair is both durable and cost effective. The entire stair, including the hardware, goes through a hot dipped galvanizing process that coats the staircase in a weatherproof finish. Guaranteed to last through harsh weather conditions and corrosive sea air, the Economy Galvanized staircase is the perfect solution for coastal areas and boat houses.
VIEW THE GALLERY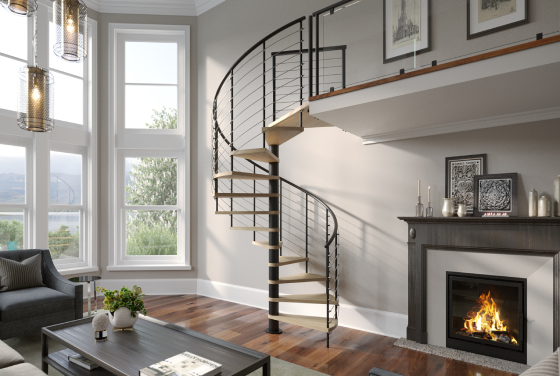 The Kinetic Spiral Stair
The Kinetic Spiral Staircase is ready to be installed in your home or project site! With a wide range of options, including finish colors and tread types, you can tailor this ready-to-ship spiral staircase to fit your vision at an affordable price.
VIEW THE GALLERY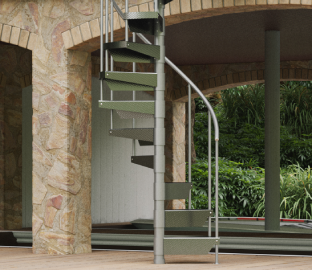 Adjustable Aluminum - Spiral Stair
The Adjustable Aluminum Spiral Stair is the perfect match for a quick DIY project that needs a premium product. The rust prohibitive frame makes it an ideal stair solution for all outdoor applications, including coastal areas and boats. The simple staircase can be customized with our range of available tread styles and railings.
VIEW THE GALLERY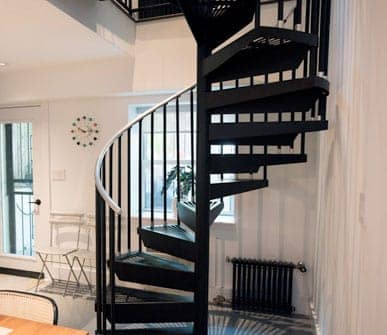 Classic Steel - Configurable Spiral Staircases
Augment the metropolitan feel of your living space with this sleek steel stair. Made standard with a black prime, this stair meshes perfectly with most any contemporary décor. The appeal of the stair can also be heightened with a personal touch by selecting your favorite species of wood for the accent elements. It's simple yet elegant thanks to its clean look and lines. This stair is also a great way to add a unique touch to your theme without spending too much.
VIEW THE GALLERY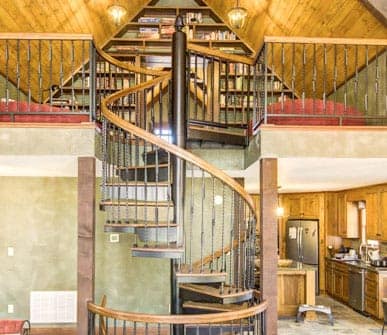 Forged Iron - Configurable Spiral Staircases
Make the old new in your home with our traditionally elegant Forged Iron stair. This staircase is available with a large variety of ornate choices to customize it to your own personal interpretation of Victorian class. From the various decorative iron balusters and column tops, to the broad spectrum of warmly toned wood choices, it's easy to make this stair your own and a perfect match to your home or office space from another time.
VIEW THE GALLERY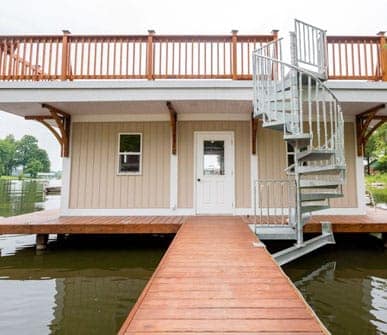 Exterior Galvanized - Configurable Spiral Staircases
When your stair needs call for something with rugged, lifelong strength and durability and a look to match, our galvanized line is your answer. Armored to withstand harsh weather and air, this stair is ideal for seaside and industrial application where constant rough use is a given. This stair is perfect for any harsh application that'll see rough use; from personal docks to large utility access.
VIEW THE GALLERY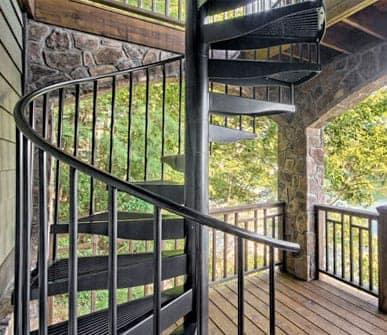 Aluminum Deck - Configurable Spiral Staircases
For a stair that's completely impervious to corrosion, our powder coated aluminum line of spiral stair is the way to go. Ideal for shore houses, lake houses, or any residence by a large body of water looking to create an air of luxury, this stair is your pick. The powder coating finish can create a chic white spiral stair or a custom color finish for a bold centerpiece. Give your beach or pool side space a lasting element of beauty now.
VIEW THE GALLERY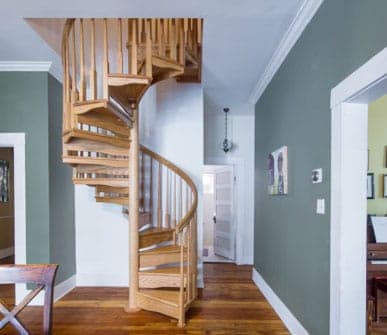 All Wooden - Configurable Spiral Staircases
Make your space a picture of natural beauty by installing one of our all wood spiral stairs. With over a dozen options from which to choose, it's easy to customize this line to your precise taste. Furthermore, the balusters and treads can be swapped for various styles to create something contemporary or traditional, whichever flavor of natural beauty you prefer. This stair is also a great way to bring the outdoors in; picture an entryway with wall-sized windows facing a garden!
VIEW THE GALLERY
See How Paragon Delivers a Best in Class Experience