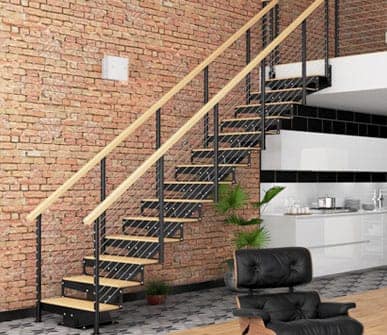 Modular Kit - Economy Straight Staircases
Designed with a no frill approach, this straight stair is perfect for those looking to get a job done fast and right. It's made to be installed easily by just a couple of people. The rugged structure makes it great for barn loft, cellar, workshop mezzanine, and other similar access needs. The "blok" components assemble like an erector set and go as high as needed up to 11'. You can keep the hard-working feel and look of the stair while giving it some classy appeal.
VIEW THE GALLERY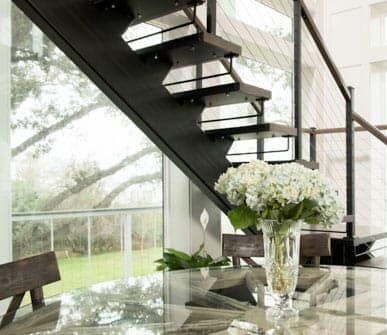 Mono Stringer - Premium Straight Staircases
Allow light to pass through your open air space by using this mono stringer straight stair for your egress needs. The epitome of minimalist, this stair has the least visible supporting structure you'll find in any stair style, making it great for rooms with large windows where you want as much natural light as possible to pass through unimpeded by things like faux walls beneath traditional straight stairs. This stair not only allows a room to remain lit by natural light, it nearly futuristic look makes it a natural focal point of any room it occupies.
VIEW THE GALLERY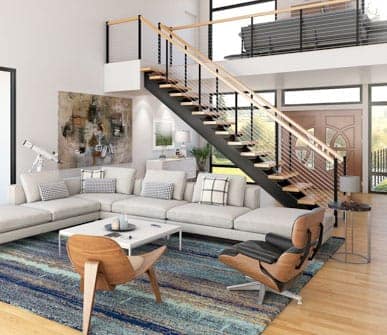 Double Stringer - Premium Straight Staircases
Great for hyper modern homes looking for a minimalist look both in terms of décor items and structural fixtures, the Double Stringer stair offers a variety of stylistic choices. Keep it simple with an all-black steel look or customize it down to the treads and railings to make something completely different. You can also configure it however you need with landing platforms so it fits within your floor plan like a glove while offering the unique style you want.
VIEW THE GALLERY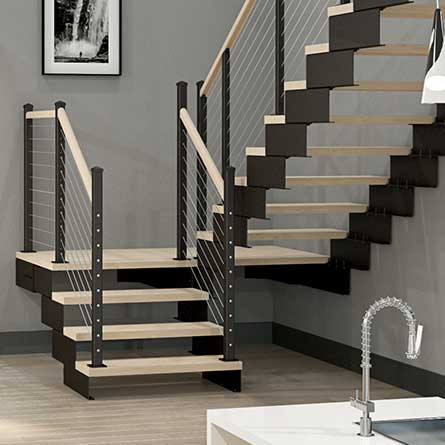 Modular Frame - Straight Staircases
Designed as the perfect middle ground of our modular kits and custom floating stairs, the Modular Dual Stringer stairs give you the look of a stylish floating staircase with the convenience of a kit! We offer both in-stock and custom design components for your dream stair without sacrificing fast lead times. Find inspiration for your affordable floating stair design here.
VIEW THE GALLERY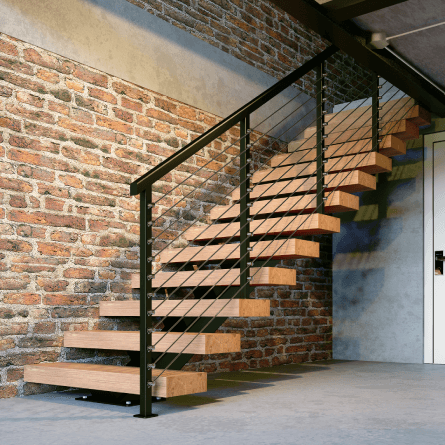 The Haven - Straight Staircases
Paragon doesn't sacrifice design or quality when it comes to the Haven Mono Stringer. This high-end staircase is tailored to your specs and budget.
VIEW THE GALLERY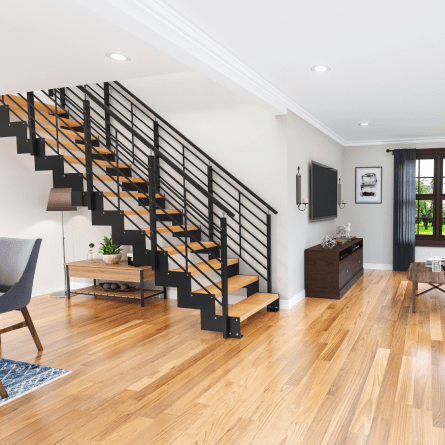 The Laurent - Straight Staircases
The beauty of the Plate Stringer product line is that the options are endless. If you can dream up a staircase, we can design and draw it. Out engineers work closely with our designers to make your vision come to life and fit perfectly into your space. Get inspiration from our gallery!
VIEW THE GALLERY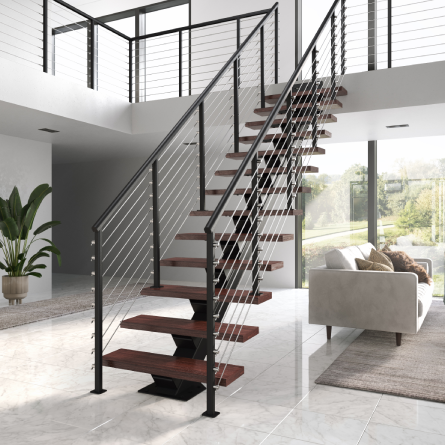 The Sheridan - Straight Staircases
Design a premium quality floating staircase at an affordable price with The Sheridan Mono Stringer. It was truly designed with open concept spaces in mind and is sure to be the focal point of your room.
VIEW THE GALLERY
See How Paragon Delivers a Best in Class Experience