Galvanized Staircase
Outdoor Deck Staircase
Installing a staircase that will last in a harsher outdoor environment at an affordable price can be a challenge. You don't want to have to deal with undue amounts of maintenance, especially if you plan to install the staircase in an outdoor area dedicated primarily to recreation. You want to dedicate what time you have to recreation without the interruption of repairs.
Paragon can help you accomplish this without breaking the bank with a Configurable Galvanized spiral staircase. A galvanized staircase is the ideal spiral staircase for long-lasting, low maintenance, outdoor deck applications.
Staircase Armoring
A galvanized staircase acts as the perfect deck or other outdoor application because of the highly durable armor created by the galvanizing process. Paragon dips each component of the spiral staircase in a vat of molten zinc. This creates a reaction where the molten zinc develops a bond with the steel of the component. The bond allows the staircase to stand up to weather extremes, hot or cold, and air with either higher than average salt content such as coastal towns or higher pollution content such as any major metropolitan area.

POPULAR STAIR CATEGORIES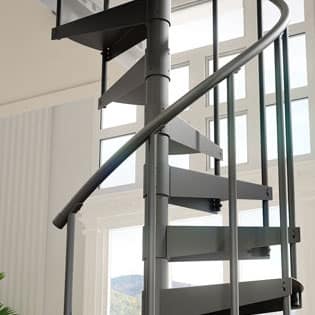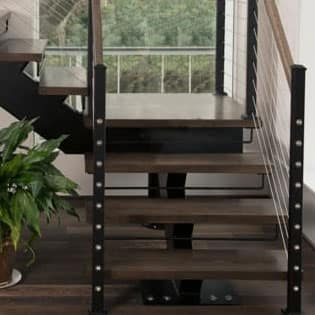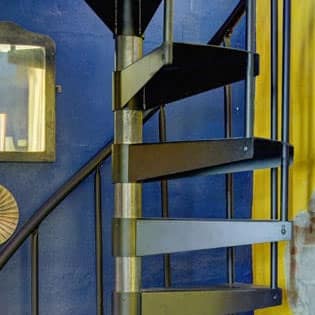 Low-Maintenance Staircase
A further benefit of galvanizing is that the end product is an incredibly low-maintenance staircase. An outdoor spiral staircase is not likely in a location that's convenient to access—not in terms of having to paint, clean, or take care of in any other way. So you don't want to have to do any of these tasks often. With a galvanized spiral staircase kit from Paragon, you can install the staircase and pretty much forget about ever having to clean it. Unless the galvanized surface gets a scratch, which is difficult to do and very unlikely. Even then, all it takes to repair is a simple wipe of the spot with the scratch using warm soapy water and a quick coat of zinc-rich paint. Other than that, a galvanized spiral staircase lasts a lifetime maintenance free.
Unique Deck Staircase
Galvanization not only offers you a great deck spiral staircase in terms of durability and utility, it also offers you a great staircase solution in terms of distinctive aesthetics. Immediately following the galvanization process, the staircase turns a shiny chrome color. However, after the "weathering period" (the six month period during which the gasses from the bonded zinc slowly release), the staircase turns a worn, battleship gray color. If you wish, you can paint the staircase once it turns this color. If you paint it beforehand, though, your paint will bubble and peel due to built up gas. So just make sure to wait if you wish to paint the staircase. However, most choose to keep the battleship gray look as it is unique and a great way to create several themes for your outdoor space.
Industrial Staircase
One excellent theme—especially if the staircase is for a more work related environment such as a home hobby or workshop in a garage or basement—is an industrial theme. Nothing helps generate that sense that yours is a place where rugged work gets done like the sight of raw, structural steel elements built to hold up to harsh use like a galvanized staircase can. If your shop is one clients see, then such a solid piece of metal can have all the more potent an effect with its industrial aesthetics. Even if clients don't see your shop, creating a working space with the right look and feel can have a dramatic effect on your own productivity whether your shop is for profit or for pastime tinkering.
Nautical Theme
If you live in a beach, bay, or other waterfront home and own a dock then a galvanized spiral staircase is also great for creating a nautical theme in your outdoor space. The battle-ship gray color immediately calls to mind the sense of being out on the open ocean and feeling the salty sea spray in your face. Installing this staircase in your outdoor space can help create a feeling of the same freedom and peace-of-mind achieved on the open waves just by stepping into your backyard.
Boat House Staircase
Some take their love for ocean dwelling a step beyond waterfront homes and go with a home actually on the water—a boat house. If this is you, then a galvanized staircase offers the perfect touch for completing the nautical look of your floating home. Not only does a galvanized staircase provide the perfect color scheme for a boat home, it's also incredibly practical. The exterior, and interior, of a boat house does not offer a lot of space to play with in terms of periphery structural add-ons. An outdoor spiral staircase kit, because it has a strictly vertical structural footprint, is a great way to use what space you have with maximum efficiency and utility.
An interior boathouse staircase also affords some great opportunity for getting artistic with your design. Aside from a galvanized spiral staircase for balcony access, imagine a customized floating staircase combing handsome wood elements with sleek metal cable railing and stringers to drive the look of your house boat to the cutting edge of design trends.
Add the durable access you need to your outdoor space with a galvanized spiral staircase from Paragon. Our thorough galvanization process creates an armor for your staircase that lasts a lifetime while also providing a distinctive look that's unmatched. Get in touch with us to get started on your custom galvanized spiral staircase.