The Defining Elements of The Deluxe Straight Staircase
Designed so any two average homeowners can assemble it with little difficulty in the course of a weekend, this steel stair has a straightforward design and rugged durability suited for various uses.
Optimize Space Use
With no need for a faux wall, this stair is a great way to make your space multipurpose. You can slide furniture under your stairs or just keep it open for a modern appeal.
Natural Beauty
Though made with a steel frame to give it a modern aspect, this stair does give you the option of different wood species from which to choose for accent elements such as handrails and treads.
Match any Height
Because of our proprietary block stack system, this steel staircase allows you to use as many tread/riser block combinations as necessary to stack up and match the floor-to-floor height of your stair need.
Smart Looking Finish
A smart looking black matte is the standard finish for the stairs, which, as the name implies, is a great universal color to allow the stairs to blend well with the majority of interior décor styles.
Your Safety is Our Priority
Our straight stair lines are each made with every safety consideration in mind for you and your loved ones.
These considerations are made with the expertise of a staff of experienced engineers who take the time to test every line thoroughly.
Non-slip treads
Code Compliant Railing
Handrails
Code Compliant Designs
Whatever the code needs of your specific location are, our certified team is up to the task of incorporating those needs into the design of your stair.
Local code experts
Engineer approved designs
Configurable options to meet code
Engineered for Beauty & Strength
Thanks to its ability to be as tall or short as needed, this steel straight stair adapts well to nearly any indoor space.
In addition, the lean structure it easy to install without intruding upon any other objects in a room or space in general, giving you leeway to use your room for other things.
Accurate Spiral Staircase Pricing
Our expert designers can design the perfect stair solution based on your requirements and budget. You'll get quick and accurate pricing from SMA certified designers! Learn more about how it works.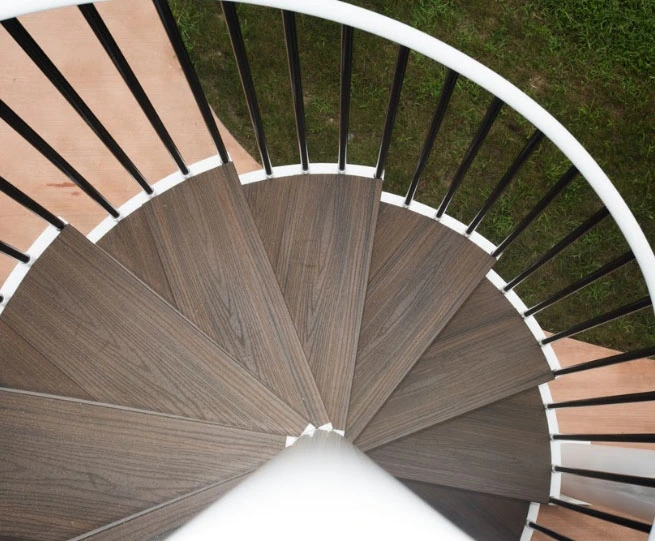 How to Buy
This step by step guide takes you through each part of Paragon's process for designing and purchasing unique spiral staircases.
Shopping Made Simple
Browse or Build

Browse our stair products for inspiration, or just create your own with our online builder tool.

Get Price and 3D Model

When you're ready get pricing and a 3D model of your stair during your FREE consultation.

Receive and Install

Get your custom-crafted stair shipped locally in a boxed kit, ready for easy installation.
Why Paragon
See How Paragon Delivers a Best in Class Experience
"*" indicates required fields
Our designers will send you same day pricing