The Defining Elements of The Alden Floating Staircase
Paragon doesn't sacrifice design or quality when it comes to the Alden Mono Stringer. This high-end staircase is tailored to your specs and budget.
Affordable Premium Floating Stairs
At Paragon, we believe that every staircase should be tailored to your specific needs and preferences. That's why our team of expert designers will work closely with you to create a custom staircase that fits your unique style, space, and budget. But don't let the affordable price tag fool you. The Alden Mono Stringer staircase is built to last, with high-quality materials and precision engineering that ensures maximum durability and reliability.
Open Spaces
Looking for a floating staircase that not only provides an open concept but also adds a touch of modern elegance to your space? Look no further than the Alden floating staircase from Paragon. Unlike traditional staircases, the Alden features thinner treads and modern railing options that give your space a sleek, contemporary look while still maintaining the sturdiness and durability you need in a staircase. The floating stair frame is open underneath, giving you more space than a traditional staircase.
Your Safety is Our Priority
At Paragon, we understand that safety is a top priority when it comes to selecting a staircase for your home. That's why we take great care to evaluate all possible safety concerns before finalizing any of our designs.
This is why we are willing to customize such options on The Alden as:
Non-slip treads
Code compliant railing
Handrails
Building Code
Code Compliant Designs
Our in-house engineering staff makes it their job to ensure all stairs that need to fulfill code requirements according to local authorities. This is because our staff comes with:
Local code experts
Engineer approved designs
Configurable options to meet code
Engineered for Beauty & Strength
The Alden is designed to be a showpiece that'll last a lifetime wherever you place it and for however long you wish to use it. Thanks to our in-house engineering staff, this stair is filled with features that are both aesthetic and functional, so this stair is guaranteed to heighten the look of any home and give you confidence in a long-lasting product.
Accurate Staircase Pricing
Our expert designers can design the perfect stair solution based on your requirements and budget. You'll get quick and accurate pricing from SMA certified designers! Learn more about how it works.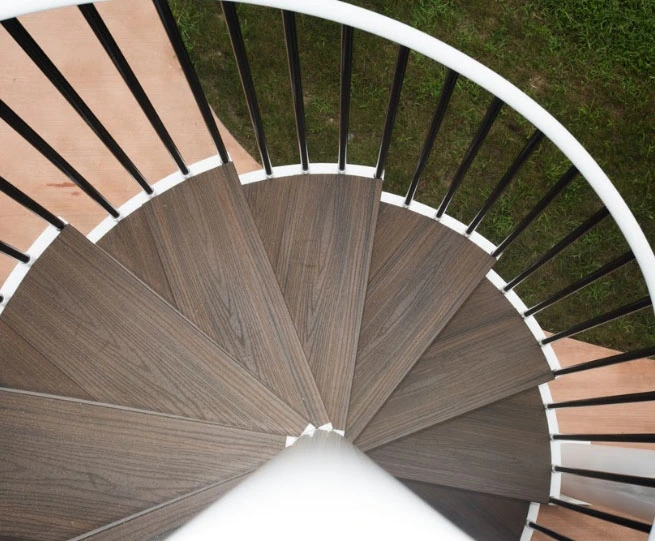 How to Buy
This step by step guide takes you through each part of Paragon's process for designing and purchasing unique spiral staircases.
Shopping Made Simple
Browse or Build

Browse our stair products for inspiration, or just create your own with our online builder tool.

Get Price and 3D Model

When you're ready get pricing and a 3D model of your stair during your FREE consultation.

Receive and Install

Get your custom-crafted stair shipped locally in a boxed kit, ready for easy installation.
Why Paragon
See How Paragon Delivers a Best in Class Experience
"*" indicates required fields
Our designers will send you same day pricing