The Executive Straight Stair
The Defining Elements of The Executive Straight Staircase
Designed with commercial settings in mind, and therefore with the understanding of being used by various people daily, this stair line can come with such additional conveniences as dual handrails for people of differing heights.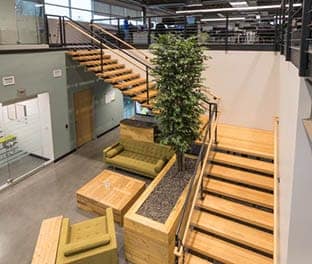 View Options
Review all configurable options for the Premium Double Stringer Straight product line!
Custom Configurations
In order to accommodate larger sweeping spaces, this stair has the ability to be constructed with switchbacks and platforms where needed to provide the best direction for your flights and the most efficient use of your layout.
Make The Executive Your Own
Configure your custom options online!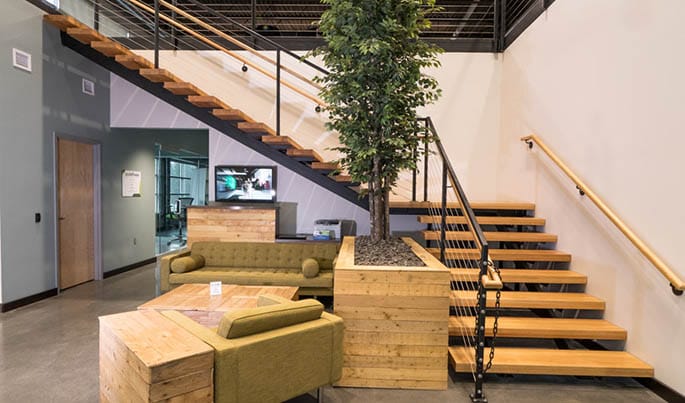 Perfect Metal Work
Each stringer is a single solid piece cut and welded to match the dimensions of your space and desired design exactly. This level of exactness is thanks to our qualified team of in-house engineers.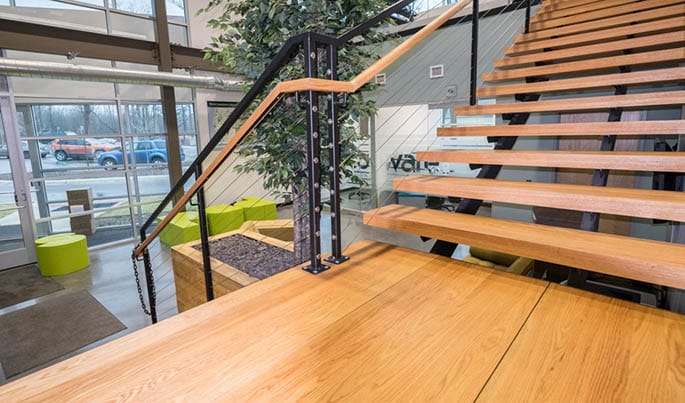 Make it Yours
It's easy to match the theme of your business thanks to our broad selection of wood species options you can use for the tread and handrail accents. And the simple selection of the right wood does wonders to set the tone for your commercial space.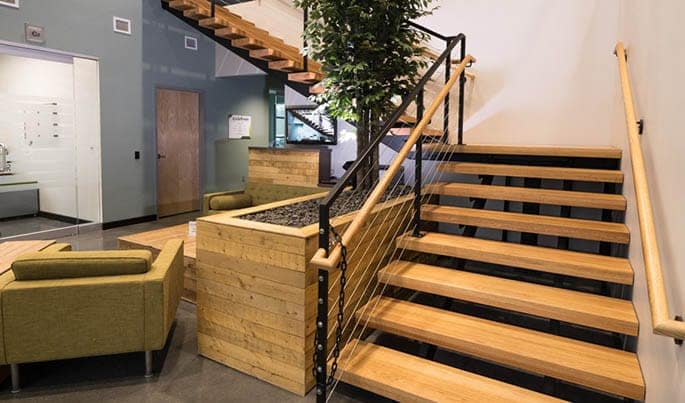 Broad Walking Path
To further accommodate commercial needs, this stair has the ability to come with especially wide treads to allow for more clients to walk side-by-side in comfort or for foot traffic to flow both ways more easily.
Free Consultation
Our stair experts craft the perfect stair for your space.
Build Your Own
Make The Executive Straight Stair your own
Get Accurate Pricing
Not sure where to start? Our friendly SMA-certified stair designers can help you find the perfect stair solution and take the guess work out of your project. You'll get:
One-On-One Web Meeting
Friendly, SMA Certified Stair Designers
Or call 1-888-939-3778 to get started right now!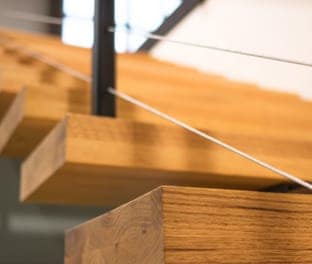 Your Safety is Our Priority
All of our stairs are designed with your safety as the number one priority. And each comes with configurable options to make the stair safer for your particular use for the stair.
One extra option this stair offers is that it can come with dual handrails at various heights. Other options are:
Non-slip treads
Code compliant railing
Handrails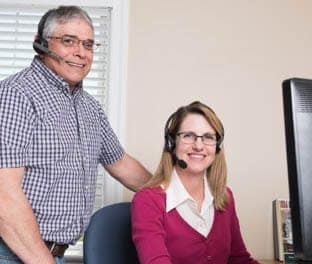 Code Compliant Designs
With our staff of code certified engineers, your stair will easily meet and exceed your local building requirements. We provide: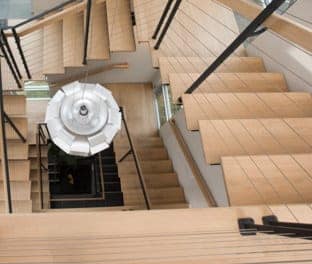 Engineered for Beauty & Strength
Each stair design has the planning and testing of several experts behind it to assure you receive the ideal stair for your intended purposes.
The Executive line is no less guaranteed to suit your purposes and enhance the atmosphere of your commercial office.
How To Buy
This step by step guide takes you through each part of Paragon's unique design and buying process.
Shopping Made Simple
Browse or Build
Browse our stair products for inspiration, or just create your own with our online builder tool.

Get Price & 3D Model
When you're ready get pricing and a 3D model of your stair during your FREE consultation.

Receive & Install
Get your custom-crafted stair shipped locally in a boxed kit, ready for easy installation.
A Ready-to-Install Kit
with the Uniqueness of a Customized Stair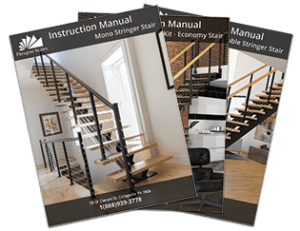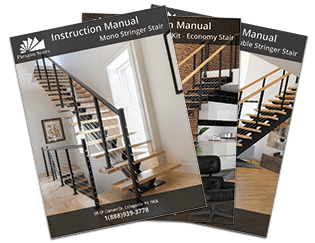 Easy Assembly Shipped to Your Door
Made in the U.S.A.
We Ship Across
North America
See How Paragon Delivers a Best in Class Experience