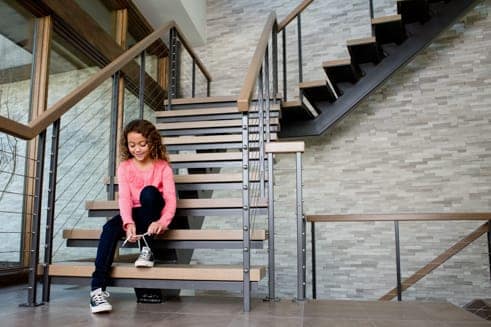 Floating Stairs
Paragon provides custom designed and manufactured floating stairs for commercial and residential projects. With over 5,000 configurable options, you can find the staircase that meets your vision. Our in-house engineers develop open frames that are structurally sound and aesthetically pleasing. Call our friendly designers for a free, no obligation consultation today.
Lifetime Warranty on Fabrication
Over 5,000 Configurable Options
The Most Consultative Design Experience in The Industry
The Benefits of Paragon's Floating Stairs
Bring new life to your home design by refreshing a classic design with a floating staircase. Paragon's floating stairs take the familiarity of traditional stairs and update it with an open frame and first-class engineering. Choose from two frame styles and custom design your new staircase.
Mono Stringer Stairs
Mono stringer floating staircases feature minimalist frames with a single support beam running the length of the staircase. Each stringer is custom measured and cut to match your space's exact specifications. Paragon's in-house engineering team reviews each design to ensure they meet our strict structural and safety standards. Each detail of your mono stringer staircase is customizable to meet your vision. Choose from over a dozen available wood species to find the right match for your space. To learn more about your design options, call our friendly designers and schedule your free consultation.
Most Popular Mono Stringer Stairs
Double Stringer Staircases
The defining feature of Paragon's double stringer floating stairs is the two support beams that are custom cut to fit your staircases measurements. Our exclusive engineering features provide maximum support and stability without sacrificing the open frame. The same design considerations are given to double stringer stairs. Your custom manufactured floating staircase features solid wood accents and railings for a unique centerpiece in your space. Our SMA certified designers help you design code compliant floating stairs for both commercial and residential projects. With a lifetime warranty on all metal components of your staircase, Paragon guarantees the quality of your floating stairs.
Most Popular Double Stringer Stairs
The Paragon Experience
Paragon Stairs offers the most consultative design process in the industry, allowing your needs to drive the final design. Our friendly designers work with in-house engineers and manufacturing to provide you with a premium staircase. Each custom manufactured floating staircase is shipped straight to your door, ready for installation. Call to start your project today!
Schedule a Free Consultation
Or call 1-888-939-3778 to get started!
"Paragon was able to custom tweak certain aspects of their product for us, which put it over the top."
A Ready-to-Install Kit
with the Uniqueness of a Customized Stair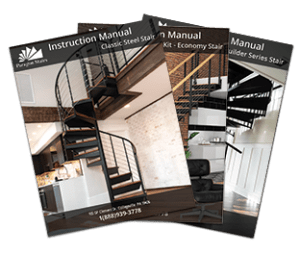 Easy Assembly Shipped to Your Door
From Design to Reality
Watch How it Works.
Each step in our manufacturing process guarantees a long lasting stair solution
Check Out Our Amazing Product Lines & Services
See How Paragon Delivers a Best in Class Experience