Timber Spiral Staircase
The Right Decorative Element
At Paragon Stairs, we understand that creating an elegant retreat in your home with a Victorian look, handcrafted wooden pieces, and a vintage air or complementing your log cabin with the right rustic oak spiral stair takes time and dedication. It's important that your solid wood spiral staircase selection lives up that timeless natural beauty you desire so much, be that beauty elegant or rustic. It doesn't matter if you have a home library, study, or office, you likely took the time to put together just the right look for this space. Any set of stairs you install needs to live up to the amount of work you put in to your home's elegant retreat. That means you need something with a look that offers not just any elegance, but the exact same category of sophistication you worked hard to create.
A spiral staircase made from solid wood provides an unbeatable, old world type of look that fits in perfectly with any space defined by class and elegance. Selecting the right species of wood can also help give the stair a color and feel that matches your space's theme.

POPULAR STAIR CATEGORIES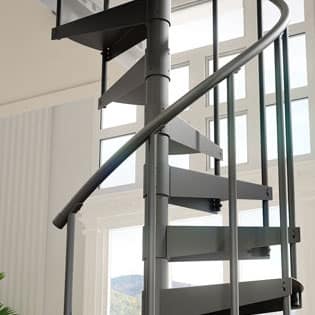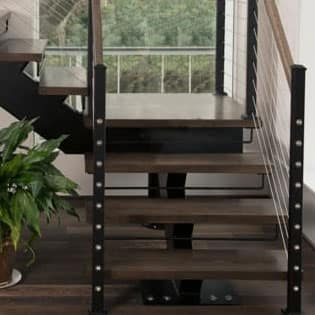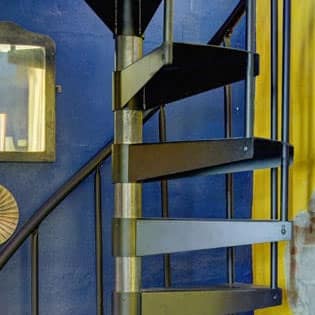 The Natural Beauty of Wood
A common trend these days is to bring more of the beauty of the outdoors in. Natural elements can help decrease feelings of stress and help you feel more at ease in your home. Such "natural" elements may include using earth tones in your pallet selection or they may include adding more plants to your décor.
Another way to add natural elements to your décor is to include wooden pieces in your design. A solid wood spiral stair case is a great way to do this while also adding something very practical to your home.
On the natural beauty side, the grains of the wood cut and arranged in the geometrical flow of a spiral is a mesmerizing sight that enhances the feeling of tranquility you look to achieve with all the natural elements you brought into your home.
On the practical side, a spiral staircase allows for easy access nearly anywhere as its small size allows you to install it nearly anywhere; unlike a larger traditional staircase. That smaller size also translates to more space for you to allot for other purposes, such as additional wood pieces, or just to leave open, either of which can increase the tranquil aspect you desire.
Easy to Customize
Going back to the issue of finding a piece that offers the exact right kind of elegance to suit the atmosphere of your space; another advantage offered by an all wood spiral stair is the ability to cut several of the components such as the spindles into various styles. You can cut and carve wood in multiple ways both geometric and contemporary to flowing and classic. This makes wood an ideal material choice for customization to match your existing interior design.
Timber spiral staircases can be custom finished, stained, and painted. So your starting wood tone and color is not necessarily the color or shade you have to stay with. The starting shade can just be a base for a more custom direction.
With a little finish and stain, you can work with your stair to customize its look even further. That's to say nothing of the multitude of paints available to you. If you're someone with a little skill and the desire to express yourself, a wood stair makes a great canvas for showing your personality in your home.
This potential also makes an all wood stair the perfect choice for the hobby DIYer that enjoys a little project now and then. So if you're itching to get started on your next home project without taking on something that takes up too much time, you've found the ideal solution.
Selecting Your Favorite Wood
Each wood offers a different set of advantages. Some are more durable, others are more receptive to finishes and stains. So finding a species that's suited to your needs is easy. It's also simple to pick a species that matches the tones of the other wood elements in your space.
You can choose a bright species like oak, alder, or Douglas fir or a darker wood like mahogany, Brazilian cherry, or walnut. You wooden spiral stair can either match your existing furniture and other wood pieces or provide a contrasting element for a more striking look in your space.
Indoor and Outdoor Use
Another benefit of a wooden spiral stair is that it works both for interior and exterior applications. So that added element of natural beauty can just as easily find a place on your patio or deck as it can in your library or study. Deciding to go with wood doesn't confine your application to indoor use. You just have to select an appropriate species of wood such as teak or mahogany and such timeless class can last a long time in your outdoor space.
Paragon takes care of all of these potential solid wood spiral stair application thanks to a selection of over a dozen different species of woods, including three outdoor appropriate woods. You can also take your pick of dozens of baluster cuts and styles to match your theme or create a unique focal point in your space.
Taking that step toward completing your indoor or outdoor space's ideal look of natural beauty is easy. Paragon will customize your timber spiral staircase to reflect your particular flavor of grace and sophistication and give you that coveted feeling of tranquility in your home or yard. The right combination of baluster styles, wood species, and overall design can take your home to a new height of beauty. Browse Paragon's All Wood Configurable spiral stair options to find your ideal element of beauty.