Victorian Stairs
What is a Victorian Stair?
Constructing a space that takes you to another time and place is no small task. Every object occupying a room to make up the décor has to contribute to the period look to pull it off. Those objects include more than just random bric-à-brac too, larger functional pieces such as furniture and even any stairs need to contribute to your look to create a full effect.
For your stair needs in such meticulously constructed and decorated spaces, Paragon offers a broad spectrum of stair materials and styles to cater to a wide gamut of themes. Some of these themes are rustic, some are contemporary, and some are classic with a touch of old world tradition and elegance. An example of the last one is a Victorian themed spiral staircase made from forged iron.

POPULAR STAIR CATEGORIES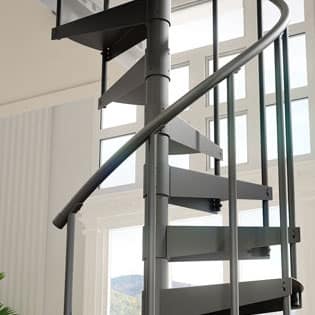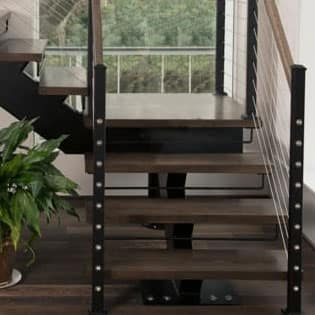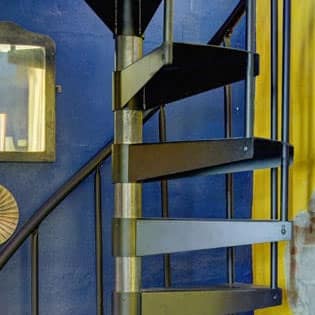 Forged Iron vs Cast Iron
Before choosing just any iron stair, though, it's important to understand your options, particularly in terms of material quality. One common issue is what type of iron works best for a stair. Two common options are cast iron and forged iron. This isn't a choice we want to make with zero knowledge base, so Paragon wants you to know exactly what each category entails.
During the casting process, one heats the iron to a liquid state and pours it into a pre-made "cast" to give a part its shape. During the forging process, one heats the iron until it is simply pliable before shaping it using billets, ingots, and other tools, which allows for a much more handcrafted feel to each individual piece rather than the machine made look created by casting. Forging also creates stronger material and parts because, unlike casting, the direction of the grains in the iron do not undergo any altering. During the casting process, the direction of the grains alter with the pouring process.
Both of these approaches offer a distinctive and unique old-world Victorian look that may harken back to the cobbled streets of London in the late 19th century, but forged iron (what Paragon Stairs offers) definitely provides you with a longer lasting and more personalized ornate structure.
Furthermore, forged iron components possess a significantly higher fatigue strength than cast iron components. Which means that a forged iron stair will have a greater load-bearing capacity and higher wear and tear yield over time. So the decision of forged iron over cast iron is a simple one to make.
Defining Victorian Style
With the strength and customization of forged iron, you can build the perfect Old English Country style home library, study, parlor, or office. The ornate patterns in the balusters and tread risers (the vertical metal piece between step surfaces) in combination with the tones of solid wood step covers and handrails work together to generate an atmosphere that immediately makes one think refinement. Top that baluster, riser, and wood accessory combination with an iron pineapple column ornament and you have an incomparable and complete look of sophistication right at home with your sextant, globe, chronometer, leather bound volumes, and other old world knickknacks.
With Paragon, you can also choose between six different designs for individual balusters, four different preset pattern groups of three baluster sets, or custom create your own pattern combination to obtain the ideal look for you. You can then combine your baluster selection with any one of over a dozen different wood species to finalize your look.
A brightly toned wood like alder may open up your space and augment or reflect the lighting from nearby chandeliers or candelabras, so that's one benefit to consider with a lighter wood. A richer, more darkly toned wood like walnut can create a cozier space and pairs well with dimmer lighting—ideal for speak easy style cocktail or jazz lounges.
Victorian Settings
Besides a home, the Victorian look provides an excellent enhancement to a number of location categories. The lobby of an upscale hotel can certainly leave a strong impression with a forged iron spiral stair at its center. The same applies to a country club looking generate a heightened air of elegance in the club house.
A wedding or other formal event venue also denotes a fantastic place for installing a forged iron spiral stair. Couples would know that the photography opportunities at the bottom step of the forged iron spiral staircase were immense, giving your venue a leg up over the competition during the venue selection process for customers.
Corporate events where hosts want to make a strong impression on partners and clients or lead successful networking affairs would also love the atmosphere created by a Victorian stair.
So bear in mind the beautiful possibilities available through the simple introduction of a Victorian themed, forged iron spiral stair in your residential or commercial space. Just a little time dedicated to customizing the style of the accessories, the wood species, plus a little time with a Paragon representative will help you realize just how simple the process and how rewarding and aesthetically pleasing the payoff can be.