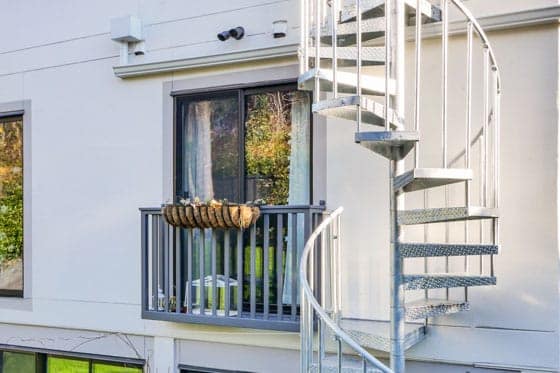 Fire Escape Stairs
Paragon Stairs offers fire escape staircases that provide a safe and stable way to evacuate your building. Our durable designs provide a long lasting solution with guaranteed structural integrity. Paragon's SMA certified designers work with our in-house engineers to create code-compliant fire escape stairs that are backed by a lifetime warranty.
Lifetime Warranty on Fabrication
Over 5,000 Configurable Options
The Most Consultative Design Experience in The Industry
The Benefits of Paragon's Metal Fire Escape Stairs
You want all tenants and guests in your building to feel safe and have proper evacuation points. This can be difficult in metropolitan areas where space is at a premium. Paragon Stairs provides code compliant fire escape stairs at an affordable price. Our durable fire escape stairs are guaranteed to hold up through weather conditions without taking up a lot of space.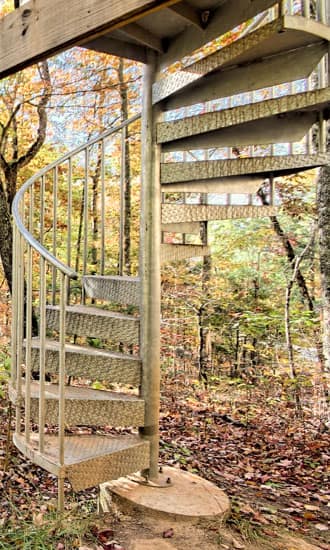 Durable Fire Escape Staircases
Durability is the number one concern for fire escape staircases. Paragon begins each stair with the right material choice for your project. Both outdoor staircase lines last through the constant outdoor exposure. Our powder coated aluminum stairs are a rust prohibitive stair frame with a weatherproof finish. Each part of the galvanized steel spiral stairs has a maintenance-free finish. We back all products with a lifetime warranty on metal fabrication. We guarantee a safe and cost-effective design for your building.
Most Popular Durable Fire Escape Stairs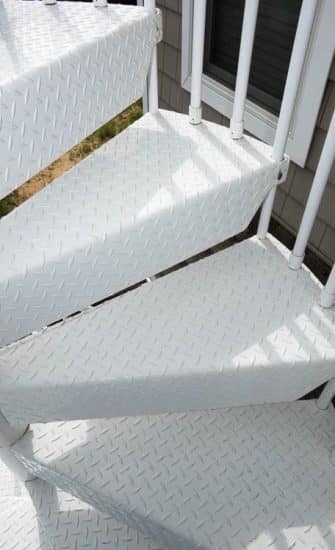 IBC Spiral Staircases
Paragon designs International Building Code compliant fire escape stairs. The Stair Manufacturers and Builders Association recognizes our staff as code certified designers. They work through each step to make certain you're meeting both the IBC and local code requirements. Your stair design starts with the correct diameter, railing, and platforms for code compliancy. Additional safety features, such as non-slip steps and safety gates, are then added to your staircase.
Additional Safety Features
Textured Non-Slip Steps
Additional Center Balusters
Fitted Safety Gates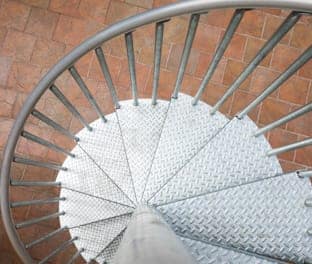 Compact Fire Escape Stairs
Fire escapes are an important part of any building. It can be difficult to find a safe and stable staircase that will fit in the evacuation points. Often times, they're found in small alleys or on the front of the building. Paragon provides fire escape stairs with small footprints that fit into narrow spaces. These designs also have a minimal impact on your building's façade. You can provide a save means of evacuation without sacrificing any curb appeal.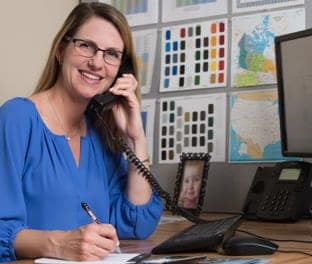 The Paragon Experience
Paragon Stairs is known for our excellent service in every step of our design and purchase process. Our stair experts and customer support team work to provide you with the best stair solution. Paragon works with trusted shipping partners to deliver your prefabricated aluminum staircase straight to your project site. We stand behind our products as best in class and back all of our stairs with a lifetime warranty in all metal fabrication. Our customer service team is ready to help with any questions about your projects after shipment.
Schedule a Free Consultation
Or call 1-888-939-3778 to get started!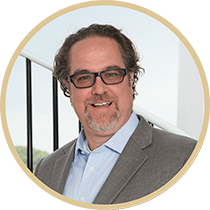 "We've had it for four seasons and it still looks brand new. There are really no signs of wear whatsoever. It's held up really well."
A Ready-to-Install Kit
with the Uniqueness of a Customized Stair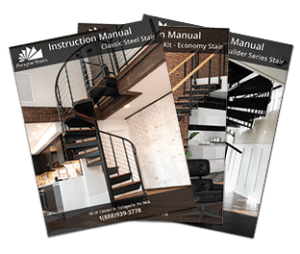 Easy Assembly Shipped to Your Door
From Design to Reality
Watch How it Works.
Each step in our manufacturing process guarantees a long lasting stair solution
Check Out Our Amazing Product Lines & Services
See How Paragon Delivers a Best in Class Experience