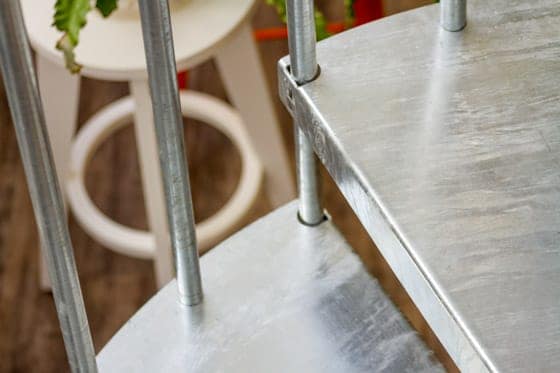 Finish: Primed, Galvanzied, and Powder Coating
Paragon offers two more budget friendly finish options. One is primed steel and the other is galvanized steel. Both offer different advantages in terms of functionality and aesthetic customizability. We also offer a third, higher end option called Powder Coating.
Primed Steel Spiral Stairs
Primed Steel is an ideal solution for interior use.
Primed Steel spiral stairs can also be used outside, however it does the void the warranty due to the risk of rusting outside. For price sensitive projects and a customer that is ok with painting and maintaining the steel outside, Primed stairs can be a viable exterior option.
Our primed finish is a full coverage matte black.

The steel center column comes in its raw form and is not painted which gives it that silver look. The reason the center column comes not painted is because you have to slide the treads over the center column during installation. Sliding the treads over the center column can leave scratches, so we encourage you to paint the center column yourself AFTER installation.
Galvanized Spiral Stairs
Our galvanized finish is an ideal solution for exterior use. The galvanization process that we use is the same used with submarines, bridges and rail yard structures.
Galvanized stairs are completely dipped in hot zinc and to a military specification. Our galvanization process complies with ASTM A123/A123M on 'Standard Specification for Zinc (Hot-Dip Galvanized) Coatings on Iron and Steel Products.
Typically lifespan for galvanized is 50 years with no maintenance whatsoever.
Over time, galvanized stairs will turn a 'battleship grey' color outside.
Galvanized spiral stairs are also an economical option because they require zero maintenance once placed outside. Therefore, the initial cost of the stair is the final cost – you will not have to pay extra money to maintain the stair outside in the same way that you would have to do so for a Primed Steel stair.
Powder Coated Spiral Stairs
A third option is our powder coating. This entails 5 steps of washing to clean the stair. Once clean, we spray your stair. Most choose black or white, but we also offer more custom colors. Then the stair moves on to a high temperature oven. The result is a sharp, vibrant, colorful surface that protects your stair and withstands any wear and tear.
Learn More about Our Finish Options