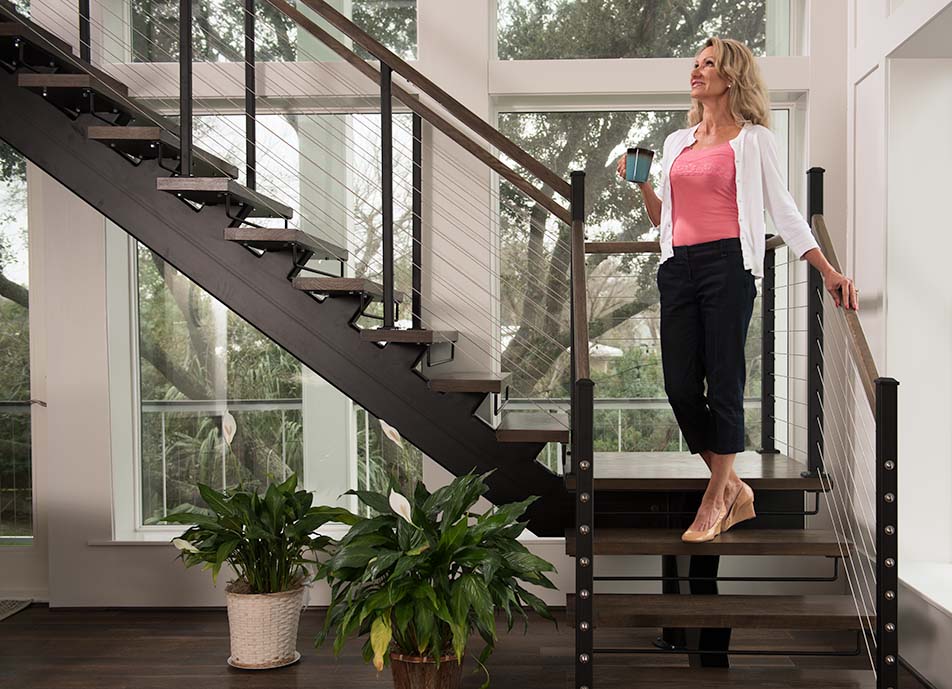 How to Buy Straight Stairs
This step by step guide takes you through each part of Paragon's process for designing and purchasing a straight floating staircase.
Straight Stair Shopping Made Simple
Browse or Build

Browse our stair products for inspiration, or just create your own with our online builder tool.

Get Price and 3D Model

When you're ready get pricing and a 3D model of your straight floating stair during your FREE consultation.

Receive and Install

Get your custom-crafted straight floating stair shipped locally in a boxed kit, ready for easy installation.
Find Your Straight Staircase by Type
Mono Stringer Stairs (Open & Modern)
Mono Stringer Floating Stairs
Modular Staircase Kits | Floating Stair Kits
Modular Stairs
Dual Stringer Stairs (Double Stringer Design)
Dual Stringer Floating Stairs
Build Your Own Straight Stair
Paragon Stairs' straight floating stairs balance a traditional staircase design and modern engineering. The open frames are customizable to meet design and safety requirements for both residential and commercial spaces. Our consultative designers work with in-house engineers to find the right design for your project's style and budget.
Design to Your Budget
Regardless of your budget, your straight staircase should meet your expectations in every way. That is why we offer the world's largest selection of straight stair options and the industry's most consultative design experience. In our free, no obligation consultation our team will uncover your needs and wants, while insuring you find exactly what you need and want before you buy.
Begin Exploring Other Product Lines That Fit Your Budget Below:
Get Inspired By Our Straight Stairs Design Gallery
Double Stringer Straight Stair
Residential Floating Stair
Solid Wood Accents
Contemporary Cable Railing
Additional Loft Railing
Commercial Double Stringer Straight Stair
Modern Floating Stair
Steel Cable Railing
Code Compliant Design
Solid Wood Accents
Modular Straight Stair
Steel Frame Block Stair
Minimalist Design
Sleek Cable Railing
Solid Wood Accents
Economy Modular Straight Stair
All Steel Block Stair
Minimalist Frame
Durable Designs
Exclusive Engineering Features
Mono Stringer Straight Stair
Modern Floating Stair
Solid Wood Treads
Contemporary Cable Railing
Landing Platform
Our Process Delivers Best-in-Class Stairs
In-House Engineering
In-House Structural Engineering
Paragon's in-house engineers ensure product safety and strength for the world's largest selection of straight and spiral stairs, over 5,000 configurable options, and custom/commercial specifications.
From Design to Reality
Each step in our manufacturing process guarantees a long lasting stair solution. We source the finest and highest quality materials and wood species from North America and Europe to make your staircase vision a reality.
Warranty
Gold Standard Lifetime Warranty
We offer the industry's only lifetime warranty on metal fabrication, and guarantee the longevity and structural integrity of all our designs. We stand behind the products we build in our US-based manufacturing facility located in Pennsylvania.
Free Virtual Stair Design Consultations
Our expert Designers will design the perfect stair solution based on your requirements and budget. You'll get quick and accurate pricing from SMA certified designers, a 3D model of your staircase, expert consultation on stair sizing, space maximization guidance and more! The first meeting only takes 5 to 30 minutes - learn more about how it works.
Why Paragon
See How Paragon Delivers a Best in Class Experience
"*" indicates required fields
Our designers will send you same day pricing