Deck Stairs
Paragon's deck stairs are a sturdy and stylish way to connect one level of your outdoor space to another. You'll find functionality suitable for residential and commercial needs. Plus, all of our deck stairs feature maintenance-free finishes, guaranteeing a beautiful and long-lasting product.
Lifetime Warranty on Fabrication
Over 5,000 Configurable Options
The Most Consultative Design Experience in The Industry
The Benefits of Paragon's Deck Stairs
Finding a dependable, sturdy, and weatherproof deck stair that blends with the style and layout of your outdoor space can be difficult. Paragon Stairs solves all of these problems with our best-in-class deck stairs. Our industry leading level of personalized options help you create the perfect style for your space and our lifetime-guarantee, customizable finish options ensure your final product looks great and lasts a lifetime. Whether you're in need of a more utilitarian deck stair with no-slip treads or are looking for a gorgeous, space-saving accent piece to accompany your stylish outdoor living space, you are guaranteed to find the ideal stairs at Paragon Stairs. We ship every staircase straight to your home or job site, so your installation can begin the day your stairs arrive at your doorstep.
Our 2018 Outstanding Deck Installation
Deck Spiral Staircase Options
With two outdoor product lines, Paragon Stairs has a deck stair that will match your style and budget. All of our deck stairs include exclusive engineering features to ensure a safe and long lasting staircase. We pair weatherproof deck stairs with the only lifetime warranty in the industry, guaranteeing a staircase that will stand through four seasons. Our no-weld not only provide an overall cleaner look, but they can also be customized down to every part from tread to baluster, giving you a look that's an exact match for your deck or patio.
Most Popular Deck Spiral Staircases
Deck Spiral Staircase Features
Paragon's spiral staircase kits are the perfect deck stair solution for an outdoor living space with style. We offer deck stair options with a rust-prohibitive frame finished with a maintenance free powder coating to ensure a long lasting spiral stair. With custom color options, your deck stair kit and railing can match your home's exterior or outdoor living space. Additional safety features you can order include such options as non-slip steps and safety gates, to guarantee that your stair meets your lifestyle and needs. The lightweight frame is shipped to your home and can be installed in a weekend. Each component of Paragon's deck spiral staircase kits combine to create a sturdy and beautiful spiral staircase.
Popular Deck Spiral Stair Kits
The Paragon Experience
Paragon Stairs provides our customers with a consultative experience that ensures your staircase meets all of your expectations. With over 5,000 configurable options, our consultative designers can help you make the right decisions for your space. Paragon has both custom stairs and DIY stair kits that fit a wide range of projects. Paragon's team of in-house engineers guarantee the quality and structural integrity of our staircases, both straight and spiral. A Paragon stair is designed and built to last a lifetime.
Schedule a Free Consultation
Or call 1-888-939-3778 to get started!
"I absolutely would recommend Paragon Stairs. We're very happy with our finished stairs: the quality of it, the making of it, the way that it went together. It's just a fantastic product and I'm glad I was smart enough to make the decision to purchase it."
A Ready-to-Install Kit
with the Uniqueness of a Customized Stair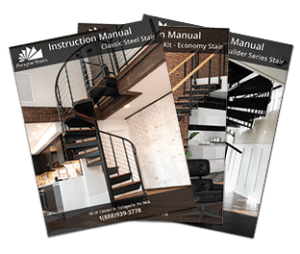 Easy Assembly Shipped to Your Door
From Design to Reality
Watch How it Works.
Each step in our manufacturing process guarantees a long lasting stair solution
Which Deck Stair is Right for You?
See How Paragon Delivers a Best in Class Experience