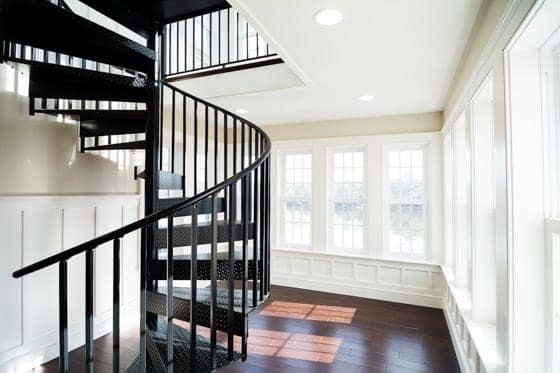 Builders Series Spiral Staircase
Paragon's Builder's Series are designed for increased durability without sacrificing the sleek style of a spiral stair. Ideal for areas with heavy foot traffic, the steps, spindles, and handrail all come together to form a support system throughout the staircase. The connections are made to handle a heavier weight than other designs. Different tread profiles and finishes allow you to make this long lasting staircase your own.
Design Your Builders Series Spiral Stair
We Offer a Wide Range of Styles and Options to Create Your Custom Stair Solution
Call to work with one of our professional stair designers now to see what options you have in term such vital stair elements as location, measurements, rotation, design, safety, building code considerations, and much more.
Builders Series Tread Profile
Keep your stair's profile slim without losing design with these open end tread designs.
Builders Series Tread Coverings
You can choose the right covering for your lifestyle, including non-slip surfaces for safety and solid wood covers for a design accent.
Standard Smooth steel tread

Diamond Plate Raised diamond pattern for a non-skid surface

Fan Cut Grated Fan cut open grate tread to allow the pass through of rain and snow

Grated - Hand Weld Open grate tread to allow the pass through of rain and snow

Solid Wood Tread Cover Solid wood accents for your stair available in all offered wood species

Carpet Ready Flakeboard Ready for carpet stair treads
‹
›
Builders Series Wood Covering Type
Paragon offers over a dozen wood species to make finding the right match for your space easy.
Handrails
With a wide range of handrails, you can find the right material and finish for your Builder's Series Spiral Stair.
Baluster Type
Our standard square baluster lets your stair's other design accents shine.
Square Standard square baluster
Number of Center Balusters
You can close any large spaces in your stair frame by choosing the number of center balusters on each step.
Matching Platform Railing
You can match your steel or PVC handrail with your your platform railing choice for a uniform look.
Finishes
Complete your unique stair design with the right finish, whether it's a traditional black or a custom color.
Direction
Find the right entry and exit points for your spiral stair by choosing either a clockwise (Right Hand Up) or a counterclockwise (Left Hand Up) design.

Number of Platform Rails
Ensure the safety of your spiral stair with the addition of railing around your landing platforms that are not attached to a wall.
See How Paragon Delivers a Best in Class Experience