Design Your Configurable Forged Iron Spiral
We Offer a Wide Range of Styles and Options to Create Your Custom Stair Solution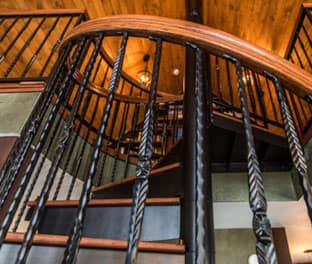 This is because of the multiple ornate baluster and tread options afforded through this stair. Combine those ornate options with over a dozen wood species from which to choose—including rich Brazilian cherry and unique alder—for tread covers and the solid single piece handrail, and you have a stair that can be customized to your exact vision of traditional class.
The Configurable Forged Iron Spiral works great for:
Uses: Indoor | Residential | Loft
Styles: Victorian | Rustic | Traditional
Price Tier: Tier 2 [$$] | Tier 3 [$$$]
(Learn more about our price tiers)
Tread Profile
Find the right tread design to compliment the rest of your staircase design, from a simple straight profile to a decorative ivy stencil.
Long Curved Elegantly curved profile with closed end

Ivy Stencil Decorative riser pattern with closed end

Code Riser Code compliant riser with closed end
Tread Covering
Choose the right steps for your space and style with either diamond plate and solid wood cover options.
Standard Smooth tread with no cover

Diamond Plate Raised diamond pattern for a non-skid surface

Solid Wood Tread Cover Over 12 wood species available for your tread covers
Tread Wood Covering Type
Paragon offers over a dozen wood species to help you find the right match for your project.
Handrails
Complete the frame of your spiral staircase with your choice of handrail.
Aluminum Aluminum handrail with dome end cap

Solid Wood 3" Bead & Finger Groove Shaped solid wood 3" handrail
Baluster Group
Choose a baluster group or create your own unique combination of decorative spindles.
Forged Standard Plain Forged Iron baluster

Forged Weave Woven design Forged Iron baluster

Forged Ball Twisted ball ornamental Forged Iron baluster

Forged Feather Feathered pattern Forged Iron baluster

Forged Ornate Twist Twisted Forged Iron baluster

Forged Ornate Twisted Scroll Decorative scroll Forged Iron baluster

Group 1 - Forged 3 Baluster A pairing of Twist and Weave balusters

Group 2 - Forged 3 Baluster A pairing of Feather balusters

Group 3 - Forged 4 Baluster A pairing of Cage and Ball balusters

Group 4 - Forged 4 Baluster A pairing of Twist and Ornate Scroll balusters
‹
›
Number of Center Balusters
You can close any large spaces in your stair frame by choosing the number of center balusters on each step.
Matching Platform Railing
The ornate look of your handrailing and baluster selection will continue into your platform railing setup for a uniform look.
Finishes
You can choose to keep your Forged Iron Spiral Stair in it's unfinished form or create a one of a kind design with our unique finishes.
Direction
Find the right entry and exit points for your spiral stair by choosing either a clockwise (Right Hand Up) or a counterclockwise (Left Hand Up) design.

Number of Platform Rails
Ensure the safety of your spiral stair with the addition of railing around your landing platforms that are not attached to a wall.
See How Paragon Delivers a Best in Class Experience