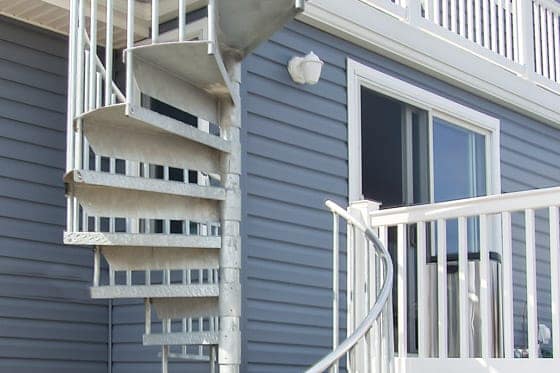 Economy Galvanized Spiral Staircase
This durable and cost effective stair gives you the best of both worlds when it comes to style and quality. This Economy Galvanized Spiral Stair is a straight forward staircase that's kept in stock to ensure quick shipping time straight to your door. The weatherproof finish guarantees a long lasting solution at a great price, even in the harshest conditions.
Design Your Economy Galvanized Spiral
We Offer a Wide Range of Styles and Options to Create Your Custom Stair Solution
Contact us now to discuss your options with an expert stair designer. They'll assist you with determining the bet stair line choice, location, dimensions, rotation, design, safety, and more to give you the ideal stair fit.
Economy Galvanized Tread Type
The Economy Galvanized Spiral Stair gives you simple options for your individual steps for a clean design.
Smooth Standard smooth tread

Diamond Raised diamond pattern for a non-skid surface

Red Oak Solid wood cover on primed steel tread
Handrails
Your Economy Galvanized Spiral Stair has two handrail materials, that are suitable for both indoor and outdoor settings.
Vinyl Standard black vinyl handrail

Aluminum Aluminum handrail with dome end cap
Number of Center Balusters
You can close any large spaces in your stair frame by choosing the number of center balusters on each step.
Matching Platform Railing
The look you choose for your railing combination will continue into any platform railing called for in your setup, so your spiral stair's look remains continuous and uniform.

Special Note on Galvanizing
Our special hot-dip galvanizing process creates a stair that will stand up to the harshest of outdoor elements for years to come without interfering with your project budget.
Direction
Find the right entry and exit points for your spiral stair by choosing either a clockwise (Right Hand Up) or a counterclockwise (Left Hand Up) design.

Number of Platform Rails
Ensure the safety of your spiral stair with the addition of railing around your landing platforms that are not attached to a wall.
See How Paragon Delivers a Best in Class Experience