Design Your Economy Modular Kit Straight
We Offer a Wide Range of Styles and Options to Create Your Custom Stair Solution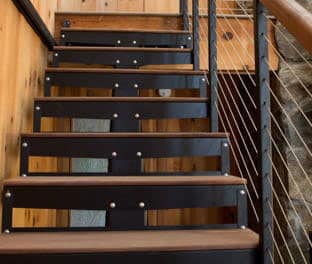 Because this stair has stackable treads, fitting your space's height is easy. In-stock components makes it easy to satisfy short lead times too. The all-steel frame makes this stair versatile enough to match a wide range of indoor décor themes. Additional configurable options such as red oak or diamond plate treads make it a simple matter to achieve a classier look or increase traction. Further options such as line or panel railing give this stair a sleek quality feel you'll be proud to showcase in your home.
The Economy Modular Kit Straight works great for:
Uses: Indoor | Residential | Garage
Styles: Modern | Minimalist | Industrial
Price Tier: Tier 1 [$] | Tier 2 [$$]
(Learn more about our price tiers)

Economy Modular Kit Tread Type
This kit straight stair comes with either smooth, diamond plate, or wood tread covers to suit your functional and aesthetic needs.
Red Oak Solid wood tread cover
Handrails
You have have your choice of wood or aluminum handrails with the economy straight stair.
Aluminum Black aluminum handrail
Railing Type
Railing comes in choices of cable wire or panels depending on your budget.
Cable Steel cable railing

Panel Steel horizontal balusters
Matching Platform Railing
Keep a consistent look in your stair thanks to matching railing for each platform/switchback.
See How Paragon Delivers a Best in Class Experience