Design Your Economy Steel Spiral
We Offer a Wide Range of Styles and Options to Create Your Custom Stair Solution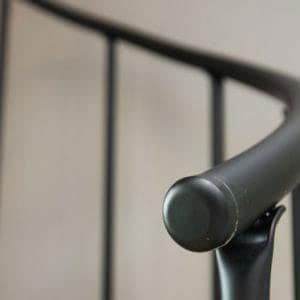 Multiple features such as our adjustable sleeve column and off-the-rack-components make this stair an ideal option for projects that require quick lead times with a guaranteed fit. Options such as red oak tread covers also allow you to add a look of traditional class to the stair without sacrificing your short lead time.
The Economy Steel Spiral Series works well for:
Uses: Indoor | Residential | Loft
Styles: Contemporary | Minimalist | Functional
Price Tier: Tier 1 [$] | Tier 2 [$$]
(Learn more about our price tiers)
Economy Steel Tread Type
The Economy Steel Spiral Stair comes with a standard profile that keeps your steps simple with your choice of a tread cover.
Handrails
Your Economy Steel Spiral Stair has two handrail materials, that are suitable for both indoor and outdoor settings.
Vinyl Standard black vinyl handrail

Aluminum Raw aluminum handrail with dome-end cap
Number of Center Balusters
You can close any large spaces in your stair frame by choosing the number of center balusters on each step.
Matching Platform Railing
Maintain the modern look of your stair railing with your platform railing by matching your selection. You can even match the look in terms of baluster spacing to keep it open or closed.
Finishes
Finished in a simple standard black prime, this stair is ready for you to paint any custom color you desire to make it match your space's theme.
Direction
Find the right entry and exit points for your spiral stair by choosing either a clockwise (Right Hand Up) or a counterclockwise (Left Hand Up) design.

Number of Platform rails
Ensure the safety of your spiral stair with the addition of railing around your landing platforms that are not attached to a wall.
See How Paragon Delivers a Best in Class Experience