Design Your Modular Frame Straight Stair
We Offer a Wide Range of Styles and Options to Create Your Custom Stair Solution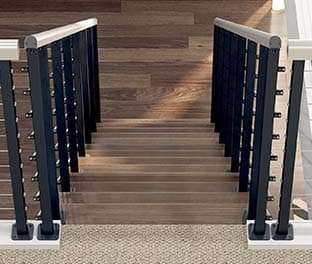 Our Modular Dual Stringer Stair combines the design of a floating staircase with the convenience of a kit. Our engineered platforms make it easy to turn within your project's specs. With both in-stock and custom options, you can craft a staircase that matches your space's needs. All of our kits are shipped straight to your door with easy to follow installation instructions.
The Modular Frame Straight Stair works great for:
Uses: Deck | Beach House | Commercial
Styles: Modern | Minimalist | Coastal
Price Tier: Tier 2 [$$] | Tier 3 [$$$]
(Learn more about our price tiers)
Modular Frame Tread Profile
Our two tread material options offer different aesthetics and benefits.

Modular Frame Tread Type
Choose from two profile options to create a code compliant staircase.
Handrails
Our handrail options provide options to suit your space's style and budget.

Baluster Type
Customize the look and feel of your staircase with our railing options.

Matching Platform Railing
You can match your steel or PVC handrail with your your platform railing choice for a uniform look.
See How Paragon Delivers a Best in Class Experience