Design Your Premium Double Stringer Straight
We Offer a Wide Range of Styles and Options to Create Your Custom Stair Solution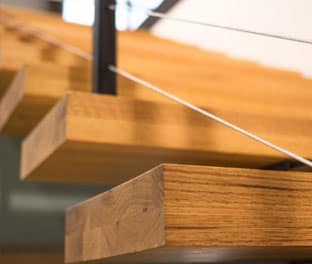 Paragon's custom cut and welded stringer system give this stair a rock-solid level of strength while at the same time allowing it to seemingly glide on air. Customizable options such as the wood species of your choice for the treads and handrails let you give this stair the perfect theme unique to you. Railing options such as our steel cable provides an accent of class to elevate the look of the stair to a structural element that stands out no matter where it's installed.
The Premium Double Stringer Straight works great for:
Uses: Indoor | Residential | Commercial
Styles: Modern | Minimalist | Custom
Price Tier: Tier 3 [$$$] | Tier 4 [$$$$]
(Learn more about our price tiers)
Premium Double Stringer Straight Wood Covering Type
We offer tread covers in the wood of your choice at varying thickness levels. We also work with custom materials.
Solid Wood Tread Covering
Premium Double Stringer Straight Tread Material Type
Add the right functional or accent element to your stair treads with any of our diamond plate, or carpet ready cover options.
Handrails
Choose from traditional wood, rugged steel, or sleek aluminum to create the look of your handrail and the perfect accent element for your stair.
Aluminum Aluminum handrail
Railing Type
Select cable railing to really give your double stringer a sharp look. This option is ideal for commercial setting in need of a modern accent aspect.
Cable Steel cable railing
Matching Platform Railing
Give your stair a continuous look and feel thanks to matching railing across every platform/switchback.
Finishes
A broad selection of indoor and outdoor wood species makes it a simple matter to give this stair the exact finished look you desire. The stringers themselves come powder coated to your specs.
Special Note on Wood
We allow you the opportunity to customize the color and glossiness of any wood in your stair by sending every wood component in its natural state without finish. s.
See How Paragon Delivers a Best in Class Experience