The Defining Elements of The Strafford Spiral Staircase
Every Paragon stair is designed through our consultative process to meet our standards of beauty and quality. Our exclusive design features come together to create a one of a kind staircase for your space.
Long Lasting Solution
The Strafford Spiral Stair at Paragon Stairs is outdoor spiral staircase that's built to withstand the harshest weather conditions. Its aluminum frame is not only rust prohibitive but also features a weatherproof powder coated finish, ensuring longevity and resistance to outdoor elements. With its robust construction and high-quality materials, the Strafford promises to endure the test of time, making it the perfect choice for those seeking an enduring and beautiful long lasting spiral stair solution.
Style & Stability
The Strafford at Paragon Stairs strikes a perfect balance between style and safety. This staircase goes the extra mile to prioritize safety with the inclusion of an additional gate at the top of the staircase, providing an extra layer of protection. The Strafford also features code risers, ensuring compliance with building codes and regulations. Whether it's for residential or commercial use, this staircase offers a seamless blend of style and safety, assuring customers that they can enjoy both a beautiful stair and peace of mind.
The Balance of Safety and Design
At Paragon, we take safety and structural integrity seriously, which is why we have developed our own in-house standards. We understand that each staircase has unique requirements, and that's why we offer a wide range of additional safety options to choose from. With our customizable features, you have the freedom to create a spiral stair that not only meets your style preferences but also prioritizes safety. Rest assured that when you choose Paragon, you can create a staircase that matches your needs while adhering to our high safety standards.
Code Compliant Designs
While all local building code requirements are different, you can customize all of our stairs to be code compliant.
SMA members
Local code experts
Engineer approved designs
Configurable options to meet code
In-House Engineering
At Paragon, we pride ourselves on our commitment to structural integrity, and that's why we have a team of top rated in-house engineers dedicated to every project.  The Strafford is a perfect example of our attention to detail, whether the staircase is simple or ornate. It showcases unique features like our baluster pockets and hidden welds, guaranteeing uncompromised strength in every component of the stair. With Paragon, you can trust that even the smallest details are carefully considered to create a staircase that combines both aesthetic appeal and unmatched durability.
Accurate Spiral Staircase Pricing
Our expert designers can design the perfect stair solution based on your requirements and budget. You'll get quick and accurate pricing from SMA certified designers! Learn more about how it works.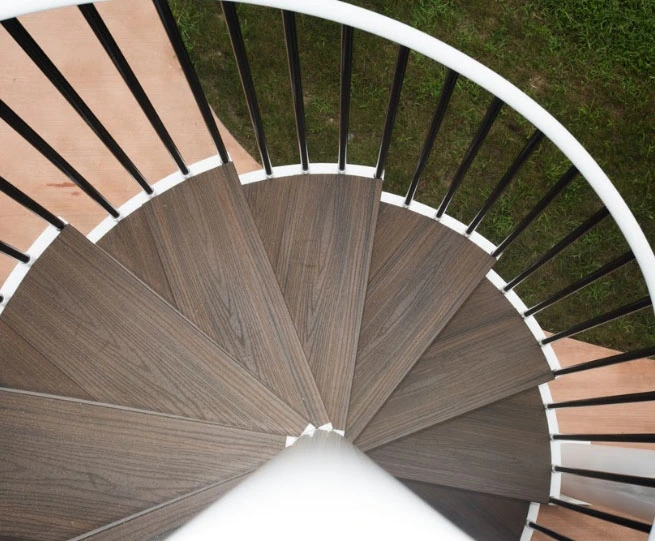 How to Buy
This step by step guide takes you through each part of Paragon's process for designing and purchasing unique spiral staircases.
Shopping Made Simple
Browse or Build

Browse our stair products for inspiration, or just create your own with our online builder tool.

Get Price and 3D Model

When you're ready get pricing and a 3D model of your stair during your FREE consultation.

Receive and Install

Get your custom-crafted stair shipped locally in a boxed kit, ready for easy installation.
Why Paragon
See How Paragon Delivers a Best in Class Experience
"*" indicates required fields
Our designers will send you same day pricing