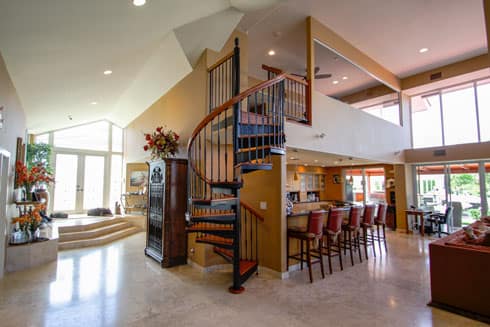 Iron Spiral Staircases
Add Victorian elegance to your home or business with a Forged Iron Spiral Staircase from Paragon Stairs. These durable iron spiral staircases pair ornate details with exclusive engineering for a staircase that will last a lifetime. Call our friendly designers to schedule a free, no obligation consultation.
Lifetime Warranty on Fabrication
Over 5,000 Configurable Options
The Most Consultative Design Experience in The Industry
The Benefits of Paragon's Iron Staircases
While wrought iron staircases are typically associated with Victorian era architecture and design, Paragon Stairs provides custom spiral staircases designed to fit your exact space whether it's traditional or modern. Our iron staircase designs can add a great highlight to your home library, commercial lobby, or luxury event venue. The point of an iron staircase is to create a functional piece of art in your space that elevates the level of class in a way that will last for a long time to come.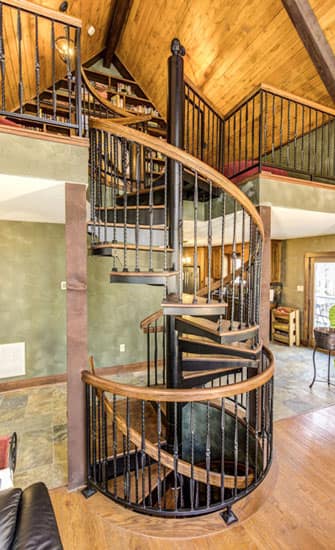 Wrought Iron Spiral Staircases
Paragon Stairs' Forged Iron Spiral Staircase is a traditional product line that can be customized to meet your vision. Depending on the design details you choose, your wrought iron spiral staircase can fit into a Victorian library or a living room in a rustic lodge. Our iron stairscases have a wide variety of custom design details available, allowing you to create a one-of-a-kind staircase. Paragon's range of decorative balusters and risers can be mixed and matched for a staircase frame that is as ornate or simple as your project calls for. The final design option is to add solid wood accents, choosing from over a dozen available wood species. Each option has varying tones and benefits that fit different projects. Our consultative designers are ready to help you make the right decisions for your space. Call and schedule your free consultation today.
Most Popular Iron Spiral Staircases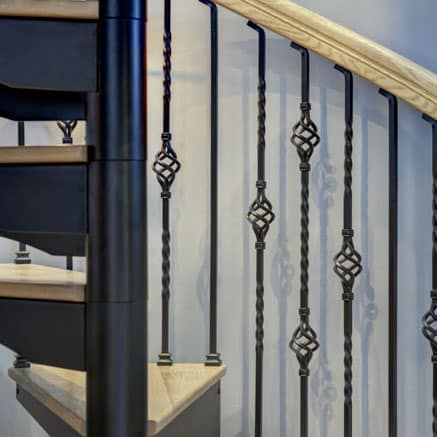 Long Lasting Ornate Designs
Paragon's iron staircases are crafted for both beauty and strength, with each exclusive engineering feature also adding to the aesthetic of your staircase. Our designers work with the in-house engineering team to ensure that your chosen design is ready for use. The Forged Iron Spiral Staircase product line has enclosed tread ends and baluster pockets to provide secure connections between each part of the staircase. These design features are backed by the only lifetime warranty in the industry for a long lasting stair solution.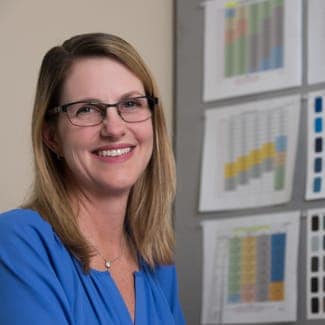 The Paragon Experience
Your project is the focus of Paragon's unique and consultative design process. From the first phone call, we work to find you the right staircase solution for your space. Our friendly designers go through each design choice to ensure you are getting a staircase that meets your needs and style. Paragon's customer support continues to post-installation with customer service agents and production managers ready to handle any questions or additions to your order.
Schedule a Free Consultation
Or call 1-888-939-3778 to get started!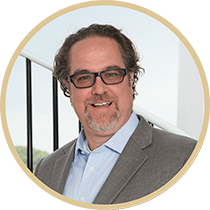 "I would recommend [Paragon] without hesitation. They did a phenomenal job. Of course, the work speaks for itself."
A Ready-to-Install Kit
with the Uniqueness of a Customized Stair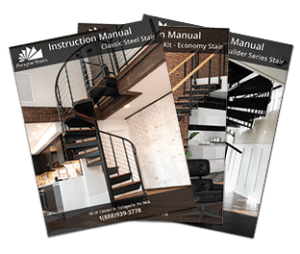 Easy Assembly Shipped to Your Door
From Design to Reality
Watch How it Works.
Each step in our manufacturing process guarantees a long lasting stair solution
Check Out Our Amazing Product Lines & Services
See How Paragon Delivers a Best in Class Experience