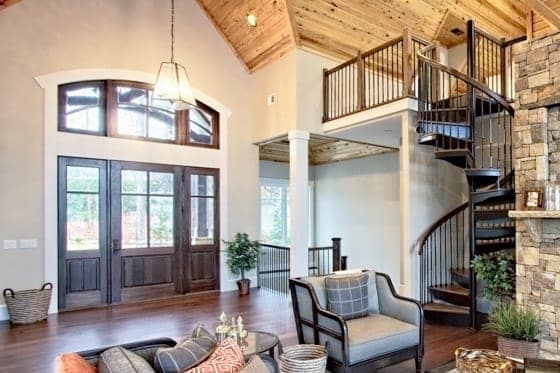 Find the Right Space-Saving Staircase for Your Home
Paragon Stairs offers a wide range of staircases made to maximize the space in your home.
Our spiral stairs feature small footprints and custom designs for a stylish way to maximize space.
Floating stair designs give you the benefits of a full standard staircase and an open frame.
Paragon's consultative designers work with you to understand your space's needs.
The Benefits of Paragon's Space Saving Staircases
Homeowners are always looking for more space in their homes. Whether you live in a tiny home where square footage is at a premium or you just want to make the most of your current floorplan, Paragon provides space-saving staircases to fit any design you have in mind.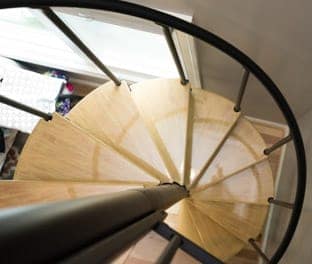 Space-Saving Spiral Staircases
Spiral stairs are one of the most logical options when you're looking for a space-saving staircase. The spiral design builds on top of itself and has a small footprint that is easily tucked into the corner of your home.This makes it the perfect alternative to a fixed ladder or collapsible step ladder. These small framed stairs are customizable with a wide variety of configurable options to fit your space's style.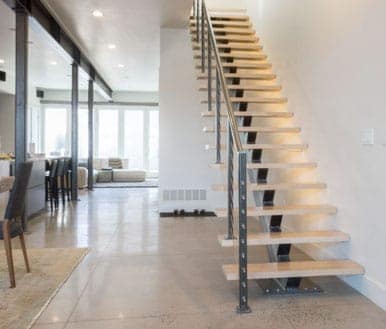 Space-Saving Floating Staircases
You don't have to sacrifice a space saving staircase design to have a straight stair. Many people want full steps on the staircases because of safety concerns, but want to make the most of their space. Our floating staircases give you the best of both worlds. While they extend out much further than our spiral stairs, the open frame allows you to use the space underneath of your stair. While it may not be your first thought, you can still maximize your space with a full standard staircase design.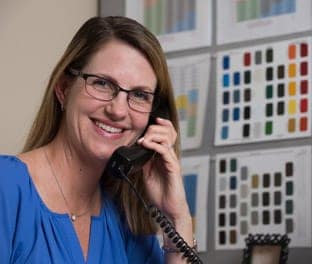 Our Consultative Process
Your design ideas and you space's needs are at the focus of Paragon's consultative design process. Our friendly stair experts ask for photos of the space so they can fully understand the stair's application and any space constraints you may have. Our unique process also includes a live web meeting where your designer will go over every detail, including the best entry and exit points, before the stair goes to production. All of these steps goes to making sure your stair is the right fit for you.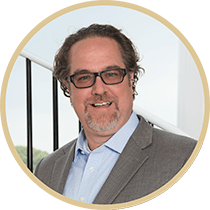 "The process of using Paragon as a stair company was amazing…From the start, they consulted us on our choices and we came out with a beautiful solution for our space."
Through our 70+ years of experience we have built our reputation of service and quality.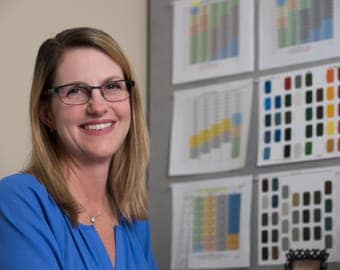 Our friendly designers and knowledgeable customer service team go over each detail with you to make certain that your space saving stair is the right fit for your home.
Call one of Paragon's friendly stair designers to begin find the right attic staircase for your home.
Explore Our Space Saving Stair Designs
See How Paragon Delivers a Best in Class Experience